Neckface Movie Trailer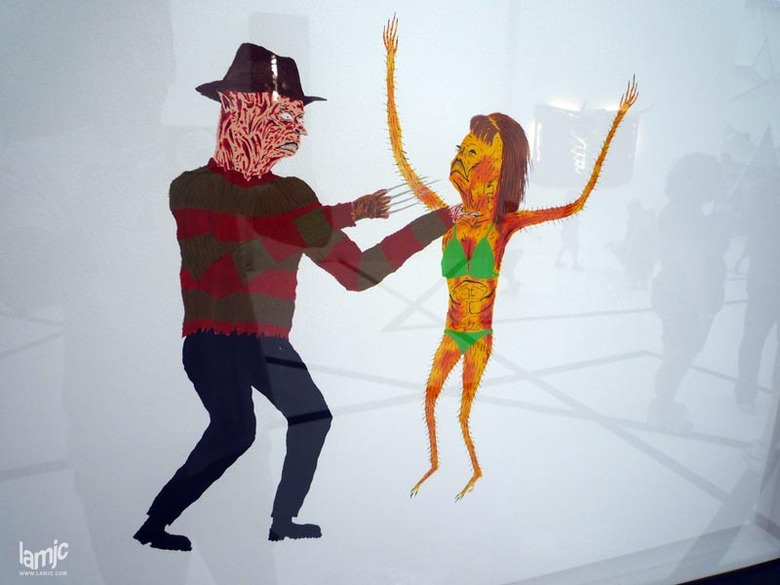 Rising to prominence in the street art scene throughout the early aughts and now bustling inside the mainstream with shoe deals and bewildered news reports, the California artist known as Neckface is a fascinating subject. For one, much of his art was and remains illegal via the defacing of billboards and buildings with "Neckface" spray-painted in a signature, Satan-evoking scrawl.
And, as with the Batman Begins billboard below, which he famously altered to become "Neckface Begins!," his tags tend to punctuate graffiti featuring decrepit, bat-like demons and bloodied, diseased derelicts. A new, all-access documentary on Neckface—who remains largely anonymous—is currently rolling from director Ty Evans, the co-director along with Spike Jonze of the skate vid Yeah Right! We've got the doc's first trailer after the jump, plus NF's new, gallery-approved take on Predator. His fresh take on Freddy Krueger hovers above.
I emailed Ty Evans to get some info on the doc's status. Here's what he shared...
The Neckface doc is super rough right now. I started filming Neck back in 2005. A lot has happened since then and there is a lot more to come. When I first started filming him I told him I want to film him for a long time span to capture his growth and everything that comes along with it. It is not coming out anytime soon. Maybe I'm half way? Maybe I'm just getting started? I have no clue. Neck is the illest guy out there and I'm psyched he picked me to tell his story.
And as promised, here is Neckface's take on Predator, which premiered with other new works at his recent Halloween-themed art exhibit (complete with haunted house!), entitled Devil's Disciple. The art was provided to /Film courtesy of Miami's O.H.W.O.W Gallery (down the street from my long abandoned home/office) and the cool peoples at the site La MJC.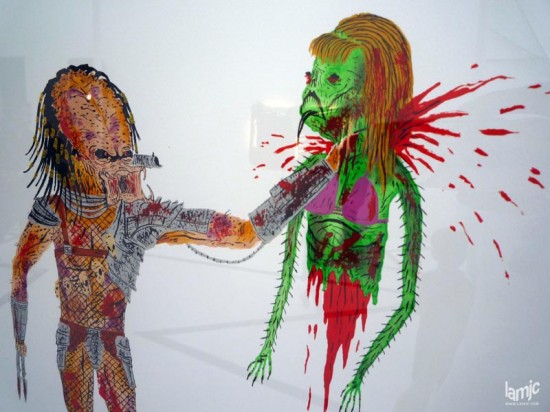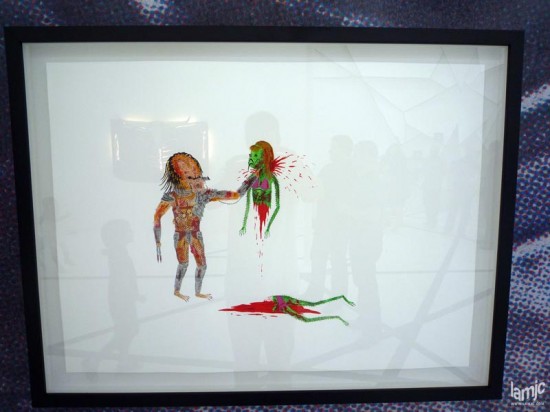 Here's the actual gallery presentation, gnarls...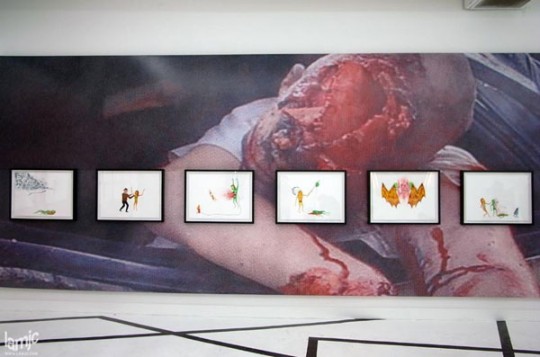 And the ode to Nolan's Bats...