Eminem To Star In Multiple Roles In 3D Anthology Horror Movie Shady Talez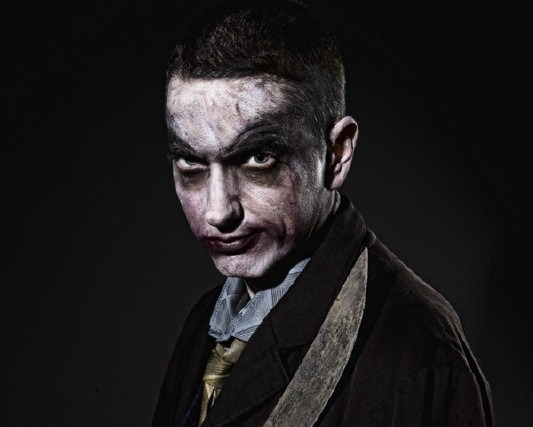 Nationwide, Juggalos are already boycotting in parking lots, in addition to breeding. Eminem, the 37-year-old adolescent rapper, will follow up his $116 million grossing fictionalized biopic, 8 Mile, from 2002 with a 3D anthology horror movie horrifically entitled Shady Talez. The project has kicked around for a while, and is now part of a synergy package that includes a same-named four-issue comic book series due 2010 from Marvel Icons. The above image comes from that. Slim Shady will produce and star in multiple roles in the film, which will give an "urban wink" to genre classics such "as Christine, Aliens, and The Lost Boys" in the style of George Romero's Creepshow. What, no characteristic ode to Irreversible or Twisted Nerve?
If the production values are there, I'm curious to at least see Eminem kooking it up with different roles, accents, and costumes. The dude arguably does a better Pee-wee Herman impression than Paul Reubens circa now, and he's not a rapper known for acting in cash-grabs. (8 Mile at the very least was not an all-out embarrassment and spawned one of his best and most popular tracks.)
There is precedent for the ghetto-fab anthology movie, with Snoop Dogg playing the Crypt Keeper-like host as the "Hound of Hell" in 2006's Hood of Horror, which featured Ernie Hudson and Danny Trejo feeding their fams. Some will also recall that Snoop Dogg played the lead as a pimp-slapping ghost alongside Pam Grier in 2001's Bones, a film more dead on arrival than Wes Craven and Eddie Murphy's A Vampire in Brooklyn. Of course, the gold-toothed granddaddy of this modern horror niche, and one of the most successful in terms of camp, is 1995's Tales from the Hood, if only for the inspired casting of the great, grey Clarence Williams III. And going back to the original source, 1972's Blacula still holds it own.
One movie that Shady Talez should stay away from "winking" at is Child's Play, as the newly released Black Devil Doll gets all kinds of crazy on that ass.