Anna Faris, Dan Aykroyd, Justin Timberlake Cast In Yogi Bear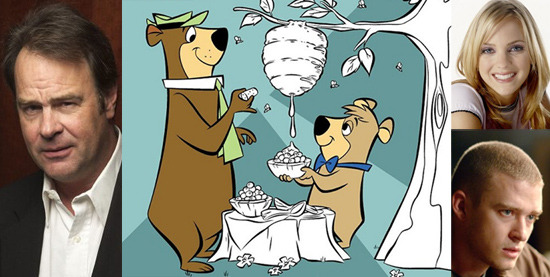 Entertainment Weekly has learned that Anna Faris, Dan Aykroyd, and Justin Timberlake are in talks to star in the hybrid live-action/computer animated feature based on the Hanna-Barbera cartoon Yogi Bear. The big screen 3D movie is being directed by Eric Brevig (Journey to the Center of the Earth), from a screenplay by Brad Copeland (Wild Hogs).  What characters will Faris, Aykroyd and Timberlake play? Details after the jump.
Faris will play a live-action character named Rachel, a nature documentary filmmaker who is trying to film Yogi and Boo-Boo for her next project.
Aykroyd will voice the computer animated Yogi, the lovable Jellystone Park bear who is notorious for his attempts at stealing picnic baskets from campers, much to the displeasure of Park Ranger Smith.
Timberlake will voice the computer animated Boo-Boo, a bow-tied bear cub who acts as Yogi's constant companion and conscience.
Park Ranger Smith has yet to be cast, but I assume he would be played live-action.Lets just hope someone like Will Ferrell doesn't fall for this paycheck trap. The film will begin filming next month in New Zealand . Warner Bros is aiming for a December 17th 2010 release.