Bruno Deleted Scene: Pete Rose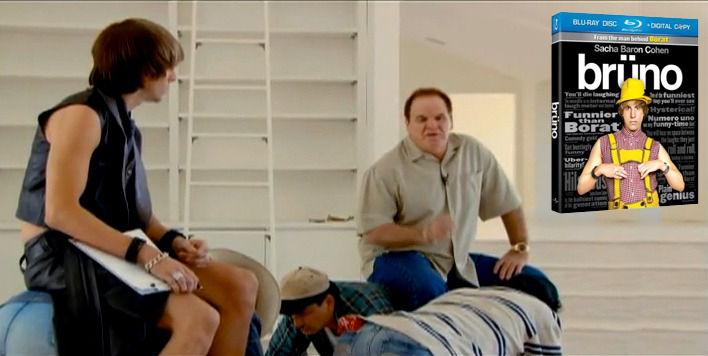 Universal Pictures has released a deleted scene from Sacha Baron Cohen's Bruno, which will be included in the DVD/Blu-ray which debuts November 17th 2009. The sequence features Baseball legend Pete Rose, in the same situation that you see Paula Abdul in the released film — having to do an interview while sitting on a mexican gardener. Rose was a lot nicer about the situation, which explains why they probably reshot the sequence with Abdul. Watch the clip after the jump.
Press release below:
The Uproarious New Comedy from the Creator and Star of Borat Brüno
"A no-holds-barred comedy! — Roger Ebert, Chicago Sun Times
Available to Own on Blu-ray™ Hi-Def and DVD on November 17, 2009 from Universal Studios Home Entertainment
OVERVIEW: The inimitable prankster Sacha Baron Cohen (Borat: Cultural Learnings of America for Make Benefit Glorious Nation of Kazakhstan) launches another inspired comedy offensive in the boisterous Brüno, coming to Blu-Ray™ Hi-Def and DVD on November 17, 2009 from Universal Studios Home Entertainment.
As in the hugely popular Borat, Sacha Baron Cohen once again creates improvised pandemonium, this time as an Austrian TV host searching for fame and fortune in America, ensnaring everyone he meets in hilariously unpredictable, unscripted and unsuspecting ways.
Featuring an hour of exclusive footage of deleted scenes not shown in theaters and a revealing commentary by Sasha Baron Cohen & director Larry Charles about how some of the film's unbelievably funny pranks were achieved, Brüno has been hailed even "Funnier than Borat" by Owen Gleiberman, Entertainment Weekly and "Uber-hilarity!" by Claudia Puig, USA Today. Hilarious, irreverent, shocking and entertaining, Brüno is the most talked-about comedy of the year.
BONUS FEATURES EXCLUSIVE TO BLU-RAY™ HI-DEF:
Exclusive Video Commentary with Sacha Baron Cohen and Director Larry Charles
BD-LIVE — Allows viewers to connect to the Internet and access new and exciting exclusive online and interactive features, including My Scenes Sharing and My Chat.
BONUS FEATURES (DVD AND BLU-RAY™ HI-DEF):
An hour of Alternative, Deleted and Extended Scenes not shown in theaters
Enhanced Commentary – Hear in depth stories for selected scenes from Sacha Baron Cohen and director Larry Charles.
An Interview with Hollywood Agent Lloyd Robinson – Get the story behind Brüno's real Hollywood agent.
SYNOPSIS: Sacha Baron Cohen (the creator and star of Borat) returns to the big screen in the hilarious adventures of Austria's favorite fashionista, Brüno. In this gleefully anarchic mockumentary, the flamboyant television host loses his homeland talk show, "Funkyzeit," and does what any self-respecting wannabe would do—he moves to Hollywood to pursue worldwide super-stardom. From worlds of fashion and entertainment to the military, Brüno puts his worst foot forward as Baron Cohen fearlessly tramples the boundaries of good taste in ways that confound celebrities and just plain folks alike. Fans of Baron Cohen's gonzo comedy can look forward to an hour's worth of hysterical scenes not shown in theaters on both the DVD and Blu-ray versions