Casting Notes: Katie Holmes Replaces Liv Tyler; Morgan Freeman Does Comedy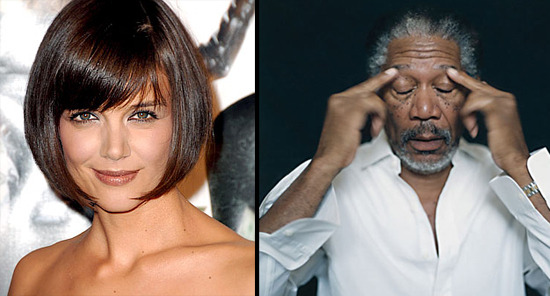 Here are your casting notes for the morning before Page 2 hits. Katie Holmes is on an upswing and Morgan Freeman gets into comedy. I'd love to see him do a lot more comedy, so long as it's not along the lines of Bruce Almighty, and hopefully this new R-rated project would do the trick.
I was already thinking about Katie Holmes this morning (it's been a while, Katie!) while writing about the downsizing of Miramax. She's in Don't Be Afraid of the Dark, the Miramax remake of a classic TV movie that my friend Troy's been shooting in Australia. Hope that one doesn't get a raw deal given the shape Miramax is in. Now she's taken over Liv Tyler's role in The Romantics, an indie that also features Anna Paquin, Josh Duhamel, Malin Akerman, Elijah Wood, Adam Brody and Jeremy Strong.
The film, about a group of college friends who reunite for a wedding, starts shooting this week in New York City, and Holmes will be Laura, a friend of and maid of honor for Anna Paquin's character. Galt Niederhoffer adapted her own novel and is directing. [Variety]
And Morgan Freeman is now attached to star in an untitled comedy based on a spec script by Josh Cagan and Greg Coolidge, with Peter Segal possibly directing. (Another spec script sale? Is the writing market in Hollywood on the upswing? Not from what friends have been saying, but maybe this is a good sign.) OK, it's not quite untitled — the current working title is Dirty Old Men, but that seems likely to change.
Script is about "an aging playboy who finally meets the love of his life and his best friend and wingman for the past 40 years (Freeman) who does everything to break up the new couple." It's R-rated stuff along the lines of Wedding Crashers. Trade reports say that the stydio wants to bring Bucket List-ers Freeman and Jack Nicholson back together. Nicholson isn't currently attached or on board. [THR]