Wanted Creator Mark Millar Lines Up His Directorial Debut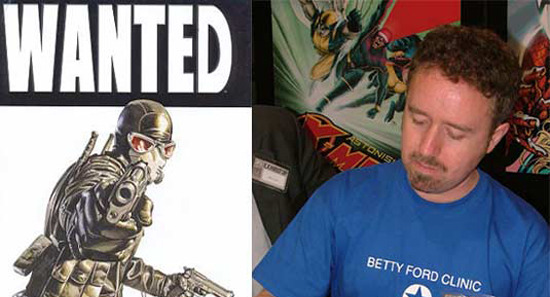 Comics writer Mark Millar has recently become a fixture on the film scene, thanks in part to projects that adapt his comics Wanted and Kick-Ass. Now Millar has said that he's got a directorial project lined up for himself. Next year he'll make the Frank Miller move, turning from comics writer to film director, and in much less time than it took Miller. (Hopefully with more success, too.) What's the movie going to be? We know that it is a superhero thing, for one. Hit the jump for some info.
OK, here's the bait and switch: we don't know what the film and/or property is. Millar is teasing us with an announcement for now, saying that we'll get a title in February. But he's teasing with quite a bit of ancillary info. He explains that he'll make the film much as Kick-Ass was made: independent, without studio overhead and domineering. But why get my version? Here's what Millar had to say on his own site:
But this is one of several big surprises planned for next year and you'll hear a bit more about this in February when we start to release details. What is it? Who is it about? Well, that's all a secret for now, but I learned a lot from Kick-Ass and love having the same creative freedom I have with comics when I work in cinema. I never want to be a studio bitch and go in there pitching for them to love me. The closest I came to this was a couple of calls regarding Superman, but pretty much none of my plans ever revealed as I didn't like the idea of anyone nicking them.
Similarly, I don't like the idea of asking for funding and justifying scenes with the money-men so I'm doing what Matthew Vaughn did with Kick-Ass and just making it outside the system with private investors. The financing is all secured and the movie stands or falls on how good I can make it, doing what Matthew did and just selling it once completed.
As you can imagine, I couldn't be more excited. More as it happens, but this might just beat out War Heroes and American Jesus as my follow-ups to the Wanted and Kick-Ass movies. Have two other pictures about to go into development (and Wanted and Kick-Ass 2, of course), but I think you need to scare the Hell out of yourself every once in a while and something totally new like directing should do the trick.
Millar's writing doesn't do much for me, but I like the idea that he's going to follow in Matthew Vaughn's footsteps to make his superhero film as an indie. (This just as we're discussing the possible death of the indie, too!) I applaud his decision to make the film outside the studio system, and that's enough to get me to overlook a general disinterest in his comics work and see what he's got in mind.