Which Former 24 Cast Member Will Return For Season Eight?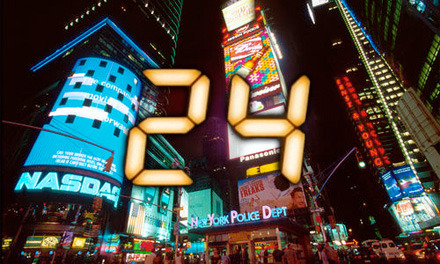 With a new location, a new hot FBI agent, and a relatively interesting twist on the anti-terror conflict, I actually thought 24: Season 7 was pretty kickass. Certainly, it helped to revive a show whose sixth season was absurdly terrible, and the fact that they actually made the initially laughable Zombie Tony storyline work is a great credit to 24's creators. In fact, if there's one thing that 24 does best, it's unexpectedly bringing back characters from older seasons in crazy, circuitous ways, even those characters that were believed to be dead. EW's Michael Ausiello has the scoop on who might be back for 24: Season Eight, but be aware: POTENTIALLY MAJOR SPOILERS LIE AFTER THE BREAK.
So who's the mystery man that will be making a return?
President Charles Logan.
24 afficionados may recall that Logan was last seen in season six, when his mentally unbalanced ex-wife stabbed him with a kitchen knife. Logan was last seen in an ambulance on the way to the hospital, looking in pretty dire shape (the last we saw of him, his cardiac monitor was flatlining). However, we learned this past season that he was still alive and under house arrest.
According to Ausiello, Logan (played by Gregory Itzin) will have a multi-episode arc:
Logan will resurface towards the end of Day 8 when Cherry Jones' President Taylor reluctantly enlists her disgraced predecessor to assist with an escalating diplomatic crisis. 24 exec producer Howard Gordon says the opportunity to watch Jones and Itzin go head-to-head "was simply too compelling to pass up."
Logan was last seen in season 6 after being stabbed to near-death by his equally mental former wife Martha. At the time, 24's then-executive producer Jon Cassar revealed that the initial script called for Logan to die. "I did everything I could not to kill him," he said. "I wanted to give us the [option] to potentially bring him back."
Despite the fact that the show strongly hinted at his death, I always suspected we'd see Logan again. After all, having Logan return would be  such a 24 thing to do. Gregory Itzin, who was recently seen as an obstinate prison warden in Law Abiding Citizen, was always able to add a pretty compelling veneer of sliminess to the character of Logan. I can't wait to see how he fares against the ultra-righteous President Taylor.