Page 3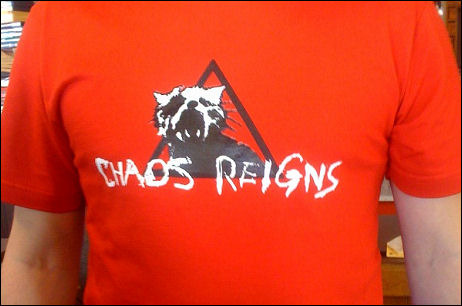 Jeff Wells spotted this Antichrist shirt for sale at Cinefile in LA. It doesn't appear to be available at their online shop just yet.
Page 3 is the eccentric little brother of Page 2 and compiles even more stories which, for whatever reason, didn't make the front page of /Film. There's a whole heap of different items after the break – video clips, posters, pictures, odd snippets of news.
Jean-Pierre Jeunet has been quoted by  Tout Le Cine, and they say that he is interested in making some pornography. Will it have Dominique Pinon in it? There's an image to conjure with.
John Rhys-Davies has told Empire he won't come back for The Hobbit under any circumstances. A cameo would be too small, a full role would be too punishing.
Pixar's Oren Jacobs has Executive Produced a documentary about a championship for grocery store baggers called Ready, Set, Bag! According to a Berkeley Daily Planet story, he was helped out by some other Pixarians too but seeing as they aren't naming names, I recommend a look at the film's IMDB page. Still want more? Here's its trailer:
"Ready, Set, Bag!" HD Trailer from Ensemble Pictures on Vimeo.
The Production Weekly twitter feed of goodness continues with a couple of news bursts. One – "Jeffrey Dean Morgan to star in The Courier with Hany Abu-Assad directing from a script by Michael Brandt & Derek Haas" and two – "Method Man will star in Gareth Maxwell Roberts' The Mortician 3D a gritty gangster film currently in pre-production in Louisiana"
Yuen Woo-Ping's True Legend is being promoted with a set of mini teaser clips. Here's one of them, while all six can be seen at Twitch.
if(document.getElementById("obj1f866af11db04864bca16236377b518f")) document.getElementById("obj1f866af11db04864bca16236377b518f").setAttribute("flashvars", "file=5b68f8f355eb4b30a1579a2f74a901d1&permalink="+encodeURIComponent(location.href)); if(document.getElementById("emb1f866af11db04864bca16236377b518f")) document.getElementById("emb1f866af11db04864bca16236377b518f").setAttribute("flashvars", "file=5b68f8f355eb4b30a1579a2f74a901d1&permalink="+encodeURIComponent(location.href));
// –>
Dan Aykroyd continues to talk Ghostbusters 3 without actually giving us any new information of depth or weight. Of course, his hands are tied. IGN suggest that Aykroyd's tone during a radio interview indicate that he is somewhat more guarded on the topic than earlier in the year (though I suspect he might just be getting bored) while Vulture have Aykroyd claim that Bill Murray actually likes the script and that the young 'Busters roles will be filled with unknowns, two male and two female.
Perusing the freshly-launched NZ and US official sites for Avatar will give you a very similar experience two times over, but you might note that the release dates are out of sync: it says December 18th for the States, while the Kiwi site promises a global release of December 17th. Oooh! Of course, I told you just the other day that there are UK screenings on the 16th...
Talking of alien blue cats, Collider are amongst the outlets to have run a new Avatar press release in full. The news is that the latest Avatar trailer will be simulcast on the Cowboy Stadium's Diamond Vision video screen and the Fox TV coverage of the same game. Apparently, there's a 90 second TV spot that will run on lots of sports coverage that same day too – is it too much to expect some new footage hidden in there?
Yamon Bari has been taking snaps down on the Red Dawn set, and only one of them has a horizontal horizon. What is this? Fay Grim? Here's the straight-up one for you check out now, you can click over to see the wonky ones with tanks and crowds and so-on. There's also a few snaps from the set of Master Class at the bottom of his post.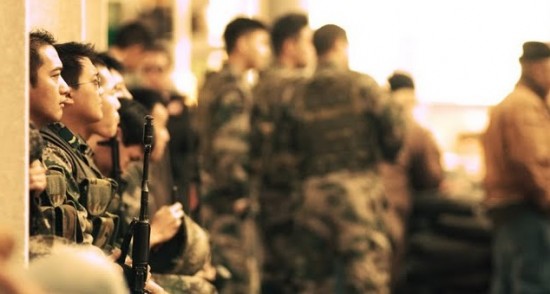 The marketing bigwigs behind Me & Orson Welles have had a smart idea and will be streaming Welles' infamous, and utterly fascinating, radio version of The War of the Worlds this Halloween. Indeed, the stream is timed to play exactly 71 years after the first airing, right down to the minute.
Amongst the various Dinosaurs Resurrected projects in development are a TV series and what Variety are calling "a narrative feature film". Trusted to create the FX will be the UK outlet Zoo, previously responsible for a bunch of TV business and therefore slightly alarming when it comes to the cinema release.
Reuters are discussing the Vook, a novel with embedded video, as part of a piece on pitching to Hollywood studios.
Jessica Postigo is adapting Casandra Clare's Mortal Instruments trilogy of fantasy novels into a screenplay. The Variety report describe the series thus:
Story revolves around teenager Clary Fray's search for her missing mother, which leads her to a city filled with mysterious fairies, raucous warlocks, vampires and other demons.
Two fresh press releases have been published by AMPAS. In the first, they name the six screenwriters to be awarded with the Nicholl Fellowship this year, and in the second they reveal that Quentin Tarantino, Jonathan Demme, Anjelica Huston and Kirk Douglas will be handing out the awards as the inaugural Governors Awards on November 14th. The recipients will be John Calley, Lauren Bacall, Roger Corman and Gordon Willis. Can you match up the pairs?
JJ Abrams doesn't want to direct Mission:Impossible 4, and Martin Landau doesn't want to cameo in it. Landau told MTV that he'd only appear if "t was a great part, which it probably isn't, it would probably be a cameo, a little joke, that wouldn't interest me at all". It seems that he doesn't much like the idea of remakes at all, having also told them "Why do that? Why revisit something that stands for itself?"
Variety tell us that Kyle Gallner, Scott Glenn and Alison Elliott will star in Jaffe Zinn's Buhl, Idaho. According to Wikipedia, Buhl is the trout capital of the world and barely had four thousand residents at the 2000 census. The film is being produced by Frozen River's Heather Rae.
Here's a pair of posters for family films coming next year – How to Train Your Dragon and Percy Jackson.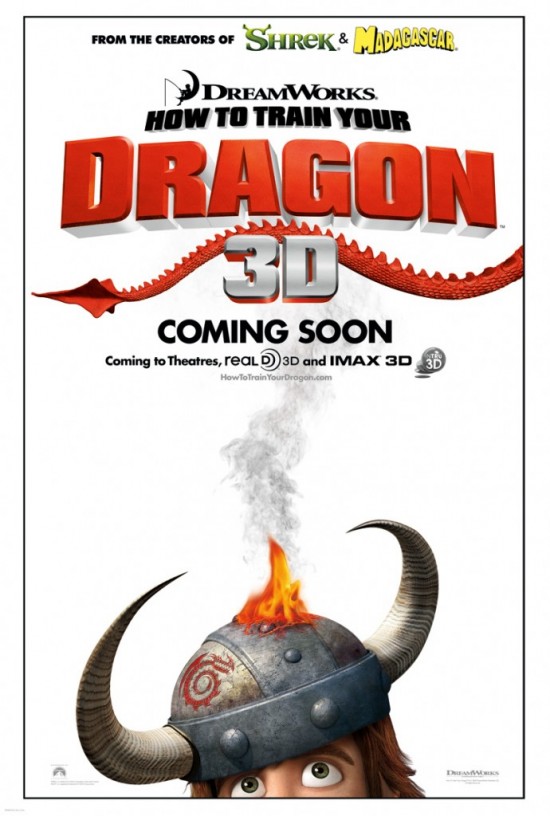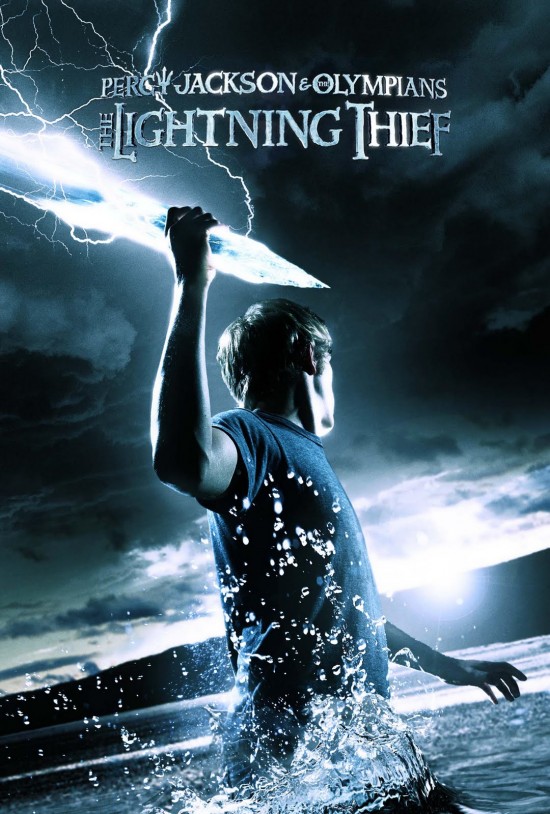 /Film's very own Christpher Stipp has interviewed Michael Jai White and Scott Sanders about Black Dynamite at Quick Stop Entertainment and found out just how excited the people of the  Czech Republic are about the film (really rather excited, it would seem).
Mortis Rex director Jim Briggs is also working on a TV show called Discmen – The Right Stuff meets Fringe, he says – and a movie called Panzer 88, a supernatural horror film set in a German tank during WW2. More details at Bloody Disgusting.
The TAG Blog have plugged a free screening of Coraline, probably this year's most cutting-edge film to have a black cat and no blue ones. Director Henry Sellick and sound designer Ron Eng will be there to conduct a Q&A too, next Tuesday, 7.30pm at the Linwood Dunn Theatre at the Mary Pickford Center, 1313 Vine Street, Hollywood. You will need to RSVP to 818-777-4627 if you want to attend.
Fox Searchlight have unveiled videos of their winners in the Fantastic Mr. Fox Costume Contest. Here's the Mrs. Fox mask 'n' ears entry, which certainly has a tang of the Wes Anderson about it. See – anybody can do it!
Variety have done some mini-profiles on the the hot talent making waves today (and other such cliches). Christoph Waltz, Emma Stone, Laz Alonso, Maggie Grace, Rachel LeFevre, Alia Shawkat, Michael Stuhlbarg, Jeremy Renner, Nicholas Hoult and Tom Hardy all come off rather well I feel and there's some winning little quotes.
Over at Shock Till You Drop they have a rumour that the US DVD of Jennifer's Body will street this Decmber 29. They say that special features have not yet been revealed, but a modicum of effort and a quick trip to the BBFC revealed at least some of the details.  Expect the extended version to run 103 mins and 2 secs, as opposed to 98 mins and 7 seconds – both of these appear to be PAL 25fps timings, so 4% faster than the theatrical, Blu-Ray or NTSC DVD versions. Meanwhile, the disc will also feature two different commentary tracks, one for each cut of the film, 12 minutes of deleted scenes and a 4mins 41secs gag reel.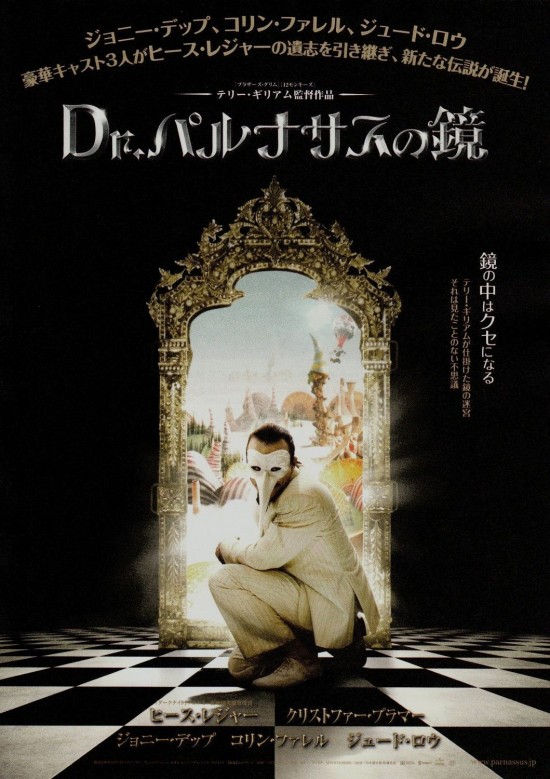 The Japanese poster for The Imaginarium of Dr. Parnassus is really rather nice indeed. This HD version comes from The Imaginarium of Dr. Parnassus Support Site.
And sticking with Mr. Ledger, here's a music video Heath directed for Cause An Effect. It's actually rather striking in places, particularly for something filmed on the cheap.