Is Neil Marshall Going To Replace Peter Berg On Dune?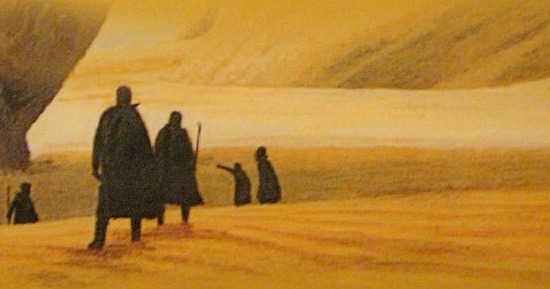 A new and curious rumour suggests that Peter Berg is no longer attached to the next big screen adaptation of Dune and the studio are shopping around for a new director. Normally, when rumours like this have something to them it's been after a fair bit of radio silence but it hasn't exactly been all quiet on the Atreides front, with Peter Berg discussing progress on the picture only a couple of months ago. Okay – it's possibly more accurate to say he was discussing a lack of progress.
If this rumour is true, however, there's a little more to it. As well as informing us that Berg and his Film 44 company have made a break for the door, the story goes that some frontrunning candidates for the canvas chair have already come in to focus: Neill Blomkamp and Neil Marshall. Bafflingly, it's Marshall who is said to be the frontrunner.
Marshall, in case you have forgotten, has directed The Descent, Dog Soliders, Doomsday... oh, and his first non-D movie will be Centurion, before he goes back to his comfort zone with Drive. He's also attached to direct Burst for Ghost House pictures, so some front runner this makes him. Don't they want to get this Dune out while Western Civilization still stands?
As for Blomkamp... doesn't have stories of his own to be telling? It looks that way.
Okay, I'm sure you've already been heaping salt on this one – I basically splashed it with soy the second I found the Pajiba story linked at Cinematical, but is this the most ridiculous rumour doing the rounds at the moment? Far from it – *cough* Marketsaw *cough*
Pajiba's source is somebody they call The Hollywood Cog. Other inside info this cog has allegedly furnished for the story include potential scoops that Josh Zetumer turned in a 175 page draft of Dune earlier this year and that Peter Berg met with Twilight's Robert Pattison regarding the role of Paul Atreides.
Okay, I'm 55/45 in favour of it all being hokum. It's interesting, though, and your cynicism levels might be healthier than mine when it comes to this kind of stuff. Should we be seeing a reprise of this in the trades tomorrow I won't be keeling over in shock.
The Pajiba post ends with the final thought "God knows, it'd be hard to mess this thing up worse than Lynch did" but... er... no it wouldn't.