Zach Galifianakis And Amy Adams To Shack Up In Once Director's Town House?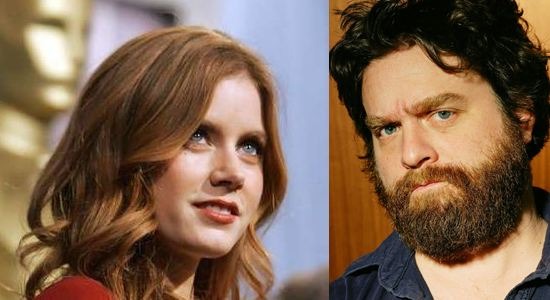 Now this seems like a winning combination. Zach Galifianakis has been riding a rocket of success following his scene-stealing performance in The Hangover, and Amy Adams is simply always fun to see on screen. The two are currently in talks for the next film by John Carney, director of Once, which was among my favorite films of its year. The project is a dramedy entitled Town House which  has been brewing since before the writer's strike in 2007.
According to Variety, the film is based on the Tish Cohen novel of the same name. The plot revolves around an agoraphobic man who lives in an inherited town house with his teenage son. He's forced to reassess his life after royalties from his rock star father start to dry up, and ends up befriending a call girl.
This project sounds like good news all around. Galifianakis gets a coveted starring role, Adams will have a meaty part as the call girl (assuming that's what she actually gets cast for), and Carney will have a bigger budget film with semi-bankable stars under his belt. The man floored me with Once, and I just hope that he gets to keep making movies for a long time.
We'll keep you updated on this film as we learn more—it's sure to be one worth following.