January Jones Teams Up With Nicolas Cage For Hungry Rabbit Jumps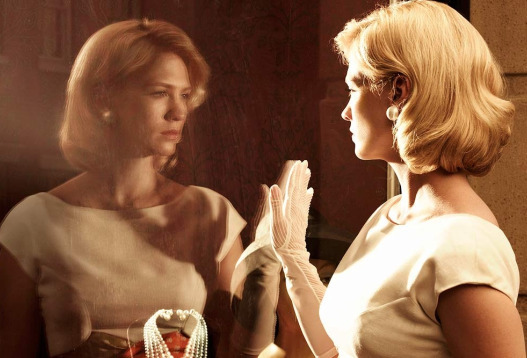 Not surprisingly, it seems that things are going well for January Jones's career after her great work in Mad Men. In a recent page 3, we mentioned that Jones would be joining Diane Kruger and Liam Neeson in Unknown White Male. Now it seems she has another theatrical project lined up. Jones will be starring in Hungry Rabbit Jump, alongside Nicolas Cage as his wife. The film will be helmed by Roger Donaldson (The Bank Job, Thirteen Days), with a script by Robert Tannen (Even Money).
The addition of Mrs. Draper herself makes this project all the more interesting. In addition to her excellent turn in Mad Men, she was also great in The Three Burials of Melquiades Estrada. To those unfamiliar with her work, Jones may look like just another semi-attractive blond, but I think she brings a rare intensity to her performances that deserves praise. The fact that she's finally getting noticed gives me faith that sometimes talent can be properly recognized.
I'm hoping these leading projects mean the end for Jones turning up in bit film parts, as well as random TV films and shows.
Discuss: Are you a fan of January Jones' work in Mad Men, or otherwise? What sorts of other projects would you like to see her in?