The Buzz: Michael Jackson's This Is It!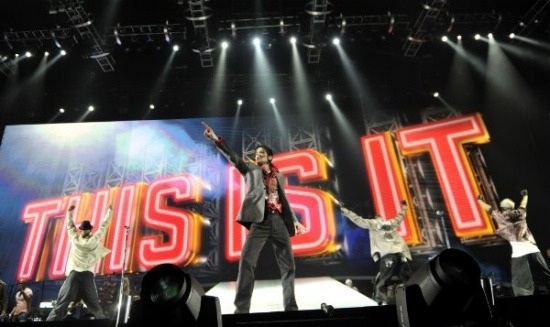 Sony released the Michael Jackson concert documentary This Is It tonight in theaters. Even movie critics and press were kept in the dark until nationwide press screenings on Tuesday night. So what is the early verdict? Lets take a look at the early buzz in the Buzz Report.
We Are Movie Geeks: "This movie is definitely a film for the fans, and everyone in the theater proved that with all of the claps after each song." ... "Think whatever you want about him personally but when you see this film you will walk away in tears, jump into your car and put your favorite MJ song on. I dont care what you have going on in the next two weeks, if you miss seeing this on the big screen you will truly hate yourself, and I will also hate you too."Film School Rejects: "As a blend of backstage footage, a few testimonials praising Michael, sharply-produced show elements, and the musical performances – This Is It is a stunning look at something that's both epic and personal. Beautiful. Thrilling. Revealing. This film is a great documentary that delivers a larger-than-life figure in his natural environment as both a mega-celebrity and just a man standing alone on a stage."The Hollywood Reporter: "Looks like the world has missed one helluva concert. Whatever cynicism one might harbor about this Hail Mary piece of cinema — which can be called the first concert rehearsal movie ever — what this strange yet strangely beguiling film does is capture one of pop culture's great entertainers in the feverish grips of pure creativity. The screen is filed with performers, musicians, choreographers, crew members and craftsmen, but the movie's laserlike focus is on Jackson. You understand what it takes to attain such dizzying heights in entertainment — and perhaps why he chose to stay away for a decade."Star Ledger: "As padded, stitched-together, and improbable a documentary as there ever was – still does something quite remarkable. It clears away the months of lawsuits and medical reports, the years of weirdness and scandal. And, at least for a little while, it recalls those old joys by showing us Michael Jackson in the safest and most normal place he ever knew: On stage, in a spotlight, in front of an adoring crowd."Florida Union: "If you had time traveled into a screening of "This Is It" from, say, 2008, you could watch the entire movie and not know that Michael Jackson is now dead. That's how restrained, how remarkably unsentimental, is this exuberant, astonishingly entertaining concert film. It doesn't try to deify him or explain him, and it's all the more moving for that understatement."