Charles De Lauzirika's Crave Shooting Now With Ron Perlman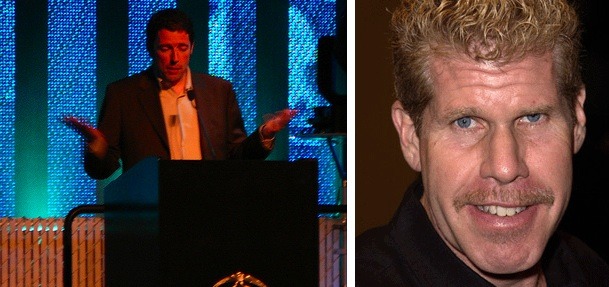 The first feature film to be directed by Charles de Lauzirika is shooting right now, having successfully flown under the trade-announcement radar all the way to its Detroit location. It's a psychological thriller called Crave and will star Josh Lawson, Emma Lung and Ron Perlman. What makes it particularly interesting, I think, is the director. De Lauzirika is previously the man responsible for producing the extra content on the lion's share of my favourite DVD boxsets and special editions.
Not only did he produce the one-time world champion DVD SKU with the Alien Quadrilogy box (points off for the name, though), he's also the guy behind the Blade Runner set that finally knocked it off it's perch. And though I'm sworn to secrecy about it (ie. legally tied up in knots by a scary studio's powerful legal people), I was recently lucky enough to see something very, very special he's putting together on Blu-Ray. And I mean very very.
I've heard DVDs like de Lauzirika's called "film school on a disc" before now. Hmmm. Okay... but does that mean he's going to be uniquely well schooled, and that we can all expect Crave to kick off from the legacies of Ridley Scott, Sam Raimi, the Coens, James Cameron, Jean Pierre Jeunet and Mark Romanek? I mean, no pressure Charles.
ShockTillYouDrop say:
[Crave] centers on a downtrodden photographer (Lawson) who is haunted by the urban violence and decay around him causing him to retreat into an inner world of dark fantasies. When his intoxicating new romance with a beautiful young woman (Lung) goes sour, those dangerous visions explode into reality with deadly consequences.
They also reveal what Perlman's character does for a living, so if you're looking for another little drop of juice, go give them a squeeze.
De Lauzirika and his DVD supplements team are amongst the most underappreciated geek heroes, I'd say. I know there's not a lot of people out there, statistically speaking, who make it all the way through every special feature on the discs they buy, but I know that I almost always do. And I know that with de Lauzirika's work I can expect documentaries as well researched and crafted as anything you'd see made on any subject, not just as a disc supplement, and definitely nothing like the puff pieces other producers often churn out to pad the specs on a DVD and lure in mugs like me.
You most likely never heard of of Paul Prischman, one of de Lauzirika's regular collaborators and a producer of some of the best material in the Blade Runner set, but the odds are far better that you've seen an enjoyed some of his work before now. Unfortunately, Paul was taken seriously ill and in March 2008 diagnosed with Grade 4 brain cancer, Glioblastoma Multiforme (GBM). Unfortunately, the survival rate is very low for this kind of cancer.
A site was set up so that fans and supporters might contribute to Paul's healthcare costs, or to his family. In recent months, there has been little fuss made over it, but the site still stands, and your donations would still mean a great deal, so I'm going to link to it again – Paul's Brain Trust.