Mastodon Opens Up About The Band's Score For Jonah Hex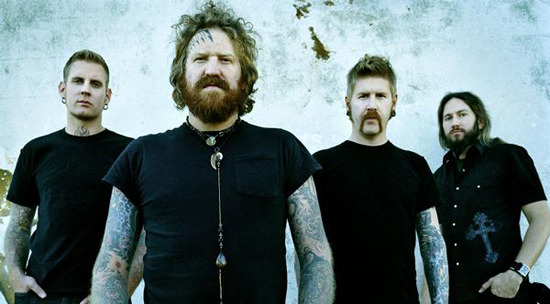 Months ago I ran into Brent Hinds, guitarist for Mastodon, who mentioned that he'd just shot a cameo for the new John Malkovich movie, and that the band would be doing some music for it. That had to be Jonah Hex, but I wasn't able to get any more details. Soon enough AICN got wind of Mastodon's score for the film, but no further info. Now some other enterprising Atlanta boys have talked to the band and got the scoop on what we can expect to hear in the film. And I'm more excited than I expected to be, as the band says that in part, the music resembles Neil Young's score for Dead Man!
Paste talked to Troy Sanders, bass player for Mastodon, and he gave up a bunch of details about what the band has done for the movie. Director Jimmy Hayward actually approached the band, saying that their record Blood Mountain had been an influence while working on the script. That led to Hinds visiting the New Orleans set and his cameo, and then the band went to LA to record about an hour's worth of music for the film.
The songs are all instrumental, including "five full songs and many smaller musical themes adapted throughout." Composer John Powell is integrating that music into his original score. "We wrote variations on themes for each character," Sanders says, "different variables for a bunch of riffs: faster, slower, heavier, lighter," Sanders said. "It's the Darth Vader approach."
So what does it sound like? Sanders says, "a lot of it was spacey, Melvins B-sides, Pink Floyd-like, surreal outer space, like Neil Young's Dead Man. Swirling, nausea music."
And basically, Sanders says the whole album's worth of music was done for nothing.  "I guarantee an incredibly popular misconception will be, 'Oh my god, they're selling out doing a fucking comic-book movie. They probably got a huge paycheck and don't give a shit about integrity,'" Sanders predicts. "The fact is the exact opposite. We sacrificed another two weeks away from home to give away an album's worth of material for nothing in return but satisfaction in being a part of something incredible."