Casting Notes: Two Gigs For Viola Davis; Gerard Butler Does Shakespeare With Fiennes; Chow Yun Fat Does Action/Comedy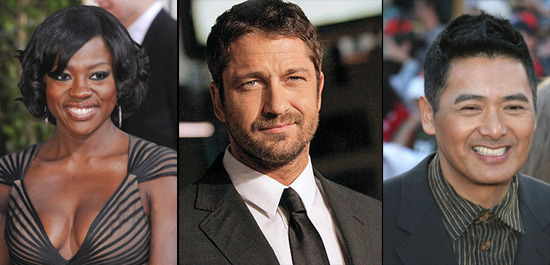 Here's a batch of casting news to tide you over until the next Page 2. Viola Davis, always a great actress and whose appearance in Doubt nearly owns the entire film, has taken two roles. One is in It's Kind of a Funny Story, where she'll work with...Zach Galifianakis? The film is about a depressed teen who checks himself into an adult psych ward. Davis will be his psychiatrist. If Galifianakis was playing the teen I'd be amazed, but that's not likely to be the case.
The other film for Davis is Trust, which is not a remake of the great Hal Hartley film with the late Adrienne Shelley and Martin Donovan. Instead, this is David Schwimmer's next directorial effort, in which a teen girl is 'victimized by an adult who gained her trust posing as a teenager on a chat room." Clive Owen and Catherine Keener are already in the cast; Davis will play a counselor. Watch out for that typecasting, Viola! [Variety]
Gerard Butler told Baltimore TV station WJX that he'd be appearing in the adaptation of Shakespeare's Coriolanus, which will be the feature directing debut of Ralph Fiennes. Butler didn't reveal his role, but we'd previously known that Fiennes, William Hurt, Vanessa Redgrave and Jessica Chastain would be in the film, and that John Logan is writing the script.
Coriolanus is a tragedy about the Roman leader Gaius Martius Coriolanus, a brilliant general who faced a schism between the support of the Senate and the will of the plebians. He was eventually exiled from Rome and later led an attack on the city. [Cinematical]
Chow Yun Fat will appear with Ge You in Let the Bullets Fly, a Chinese action comedy set in the 1920s. Chow plays a 'visionary triad leader' during a period of conflict amongst fueding warlords. Jiang Wen is directing and also appears as a bandit who claims the mayorship of a remote town. The script apparently went through nine rewrites (not so unusual) with ten different endings (ouch; very unusual) before being locked down this week. So you know it's going to be awesome. [Screen Daily]