David Fincher Adapting UK Mini-Series House Of Cards For Weekly US Series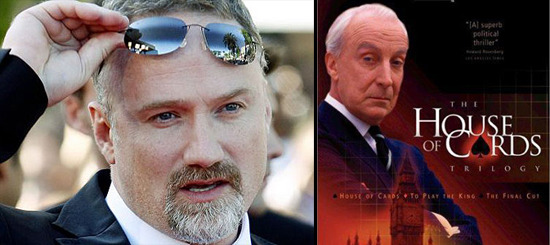 Anyone with even a cursory knowledge of acclaimed UK television probably saw this coming. So many great series have been adapted or are on the verge, and one notable political project was missing: House of Cards, originally broadcast in 1990. Now David Fincher and his The Curious Case of Benjamin Button screenwriter Eric Roth are re-teaming to adapt the series into an ongoing hour-long drama for US television.
THR reports that no network has bought the series as yet. Fincher will serve as executive producer with Roth. The original series starring Ian Richardson and written by Andrew Davies based on Michael Dobbs' book was set at the end of Margaret Thatcher's tenure and saw a devious Member of Parliament, Francis Urquhart, scheming to become Prime Minister. Fincher and Roth's version will change the time and place to current America, but retain the focus on political blackmail and machinations.
If this works well, essentially what we'll get is an opposite number to The West Wing. While Aaron Sorkin's show gave us a sort of fantasy political America, House of Cards should really be a look into the underside of politics.
The original series was significantly inspired by Shakespeare's Richard III, with Urquhart frequently breaking the fourth wall. Several of Urquhart's notable actions were based on those of Richard III; Richardson has said that he based his award-winning performance on the monarch as written in Shakespeare's play. Hopefully Fincher and Roth will retain at least the fourth wall breaks, as they're part and parcel of what makes House of Cards unique. And since so many other aspects will have to be altered to accommodate the change from UK to US, they need to keep something intact.
Here's the brilliant opening of the first part of House of Cards, which shows off just how reliant upon Richard III the series could be.