Sin Nombre Director Cary Fukunaga To Adapt Jane Eyre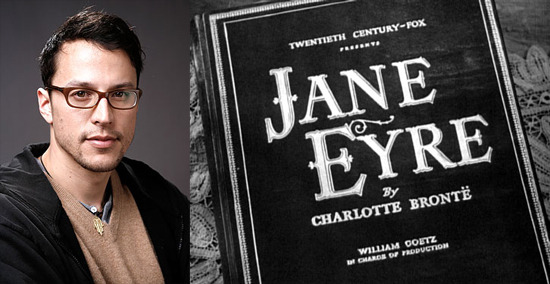 This is a bit unexpected; there have been a lot of possible next projects in the works for Sin Nombre director Cary Fukunaga. None of them were a new adaptation of Charlotte Brontë's novel Jane Eyre. But the deal to put Fukunaga in the director's chair for a new film version of the oft-adapted novel is reportedly close to finished. And thinking about the idea further, I've realized that it actually may be quite a good fit for the promising new filmmaker.
Variety reports that Fukunaga is in advanced talks to direct the film for UK outfit Ruby Films. The script is by Moira Buffini, seemingly the most popular young playwright in England. Her script appeared on the 2008 Brit List, that roster of well-regarded unproduced screenplays in Britain. (Similar to the Black List in Hollywood.) There was news about this project back in 2008 when Ellen Page was on board to star as the title character, but she's not been part of the current goings-on.
I haven't had a chance to read Buffini's take on the story, but the trade says that it highlights "the gothic elements of the classic 19th century story about a governess who falls in love with her surly employer who has a dark secret." Superficially, that might pit this take squarely against the '44 version scripted by  by John Houseman and Aldous Huxley and starring Joan Fontaine, Margaret O'Brien and Orson Welles (who reportedly ghost-directed much of the film).
But the social commentary that is crucial to the novel is something I can see Fukunaga nailing, and he's also got the affinity for questions about class and ability to quickly sketch strong characters. Sin Nombre was a story heavy with atmosphere and a certain feeling that leapt between the characters without being voiced. That suggests that the heavy gothic atmosphere (not to be confused with a heavy goth atmosphere — don't get this wrong) isn't something that will daunt the director.
And what about those other films we've heard about as possible projects? There was talk of a sci-fi film involving time travel (please, let the future version of me be able to program a modern time-travel fest with films by Rian Johnson, Shane Carruth and Fukunaga!) and a "kind of fantastical folk story" musical with song collaboration by Owen Pallet of Final Fantasy and the Arcade Fire and Zach Condon of Beirut. Hopefully those are still on the docket somewhere. Fukunaga signed a first-look deal with Focus, so perhaps the studio will bite on one of those.
If you haven't seen Sin Nombre you can get the DVD now, and watch the Levi's ad below for a taste of Fukunaga's style.