The Weather Channel Will Begin Broadcasting Feature Films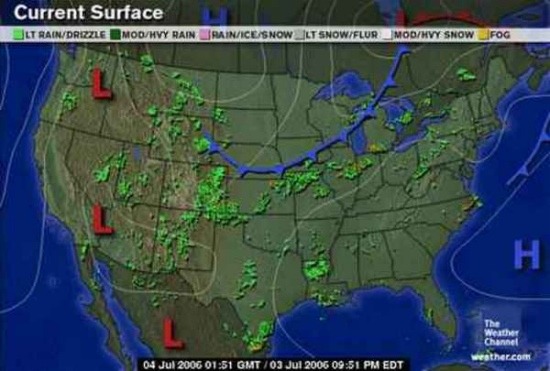 I opened up my inbox and saw and saw an e-mail subject line that read "Weather Channel Adds Feature Films to Network Schedule". I immediately clicked on the headline thinking iI would find a link to another brilliant parody from The Onion, or maybe a video from FunnyOrDie or College Humor. I was surprised to discover that the e-mail was not a joke, but an actual press release.
That's right, The Weather Channel is going to start airing feature films, movies which are in some way weather themed, beginning with The Perfect Storm. Remember the days when you could turn on MTV and see music videos? Well it appears the days where you could tune into the Weather Channel for weather forcasts might be soon behind us as well. Not that I care that much. If I need a weather forcast, I'll go online, or turn on my iPhone and open the Weather app (yes, there is an app for that too...). I think it's more of the principal that bothers me, the idea of it all. And who is really going to tune to the Weather Channel to watch Misery? Really... Full press release after the jump.
THE WEATHER CHANNEL ADDS FEATURE FILMS TO NETWORK SCHEDULENew Movie Series "The Weather Channel Presents..." Launches October 30 with George Clooney and Mark Wahlberg in The Perfect Storm
ATLANTA (October 20, 2009) – For the first time in its 27-year history, The Weather Channel® (TWC) will add movies to its programming schedule with "The Weather Channel Presents..." This new movie series launches Friday, October 30, with the TWC premiere of The Perfect Storm, starring George Clooney, which coincides with the anniversary of the ferocious "perfect storm" of 1991, on which the movie was based.
Following The Perfect Storm on Oct. 30, TWC will air feature films every Friday night in November. Weather plays a central role to the story, plot or overall theme in each of the movies selected.
TWC meteorologist Jen Carfagno will host the new series, introducing each film and providing relevant commentary.
"From the Nor'easter in The Perfect Storm to the tornado that takes Dorothy to Oz, weather has a long history as a film star," said Geoffrey Darby, executive vice president of programming for The Weather Channel. "Adding films to our Friday night lineup is a great way for us to further demonstrate how weather is an all-encompassing part of our lives that entertains and inspires us."
"The Weather Channel Presents..." will feature the following movies:
The Perfect Storm – Premieres Friday, Oct. 30, at 8 p.m. ET (18-year anniversary of the "perfect storm" on which movie was based)
* Based on actual events and Sebastian Junger's best-selling book, this dramatic story chronicles a group of Gloucester fishermen on their vessel's ill-fated journey into the North Atlantic, as they ignore warnings of a monster storm brewing with winds at 50-60 knots. Their captain, played by George Clooney, tries his best to save his crew and battle the fiercest storm of the 20th century. The film also stars Mark Wahlberg, Diane Lane and John C. Reilly.
* March of the Penguins – Premieres Friday, Nov. 6, at 8 p.m. ET
The 2006 Academy Award winner for Best Documentary Feature, this beautiful story narrated by Morgan Freeman chronicles the heroic, harrowing journey by emperor penguins amid subfreezing temperatures and violent snowstorms at the South Pole in order to hatch a new generation.
* Misery – Premieres Friday, Nov. 13, at 8 p.m. ET
When novelist Paul Sheldon, played by James Caan, crashes his car during a blinding snowstorm, he ends up writing to stay alive when "rescued" by obsessed fan Annie Wilkes (Kathy Bates in an Academy Award-winning role), who is less than hospitable when she finds out he has killed off her favorite character.
* Deep Blue Sea – Premieres Friday, Nov. 20, at 8 p.m. ET
A group of medical researchers finds themselves stranded aboard a remote marine laboratory working with genetically enhanced Mako sharks. With a tropical storm swirling around the now-sinking lab, the mutant sharks strike back at those who used them as lab rats. This action thriller stars Samuel L. Jackson and LL Cool J.
During "The Weather Channel Presents...," viewers will continue to receive their localized weather forecasts throughout the film, where it can be seen on the lower portion of the screen in addition to any severe weather alerts or warnings.
To learn more about the series and other TWC programming, visit www.weather.com/tv.
###
About The Weather Channel Companies
The Weather Channel, a 24-hour weather network, is seen in more than 99 million U.S. households. The Weather Channel reaches more than 40 million unique users online per month through weather.com and products including The Weather Channel Desktop, making it the most popular source of online weather, news and information according to Nielsen//Net Ratings. The Weather Channel also operates The Weather Channel HD; Weatherscan, a 24-hour, all-local weather network; The Weather Channel Radio Network; and is the leading weather information provider for emerging technologies. This includes broadband and interactive television applications and wireless weather products including the most popular content site on the Mobile Web. The Weather Channel Companies are owned by a consortium made up of NBC Universal and the private equity firms The Blackstone Group and Bain Capital.