City Of Ember Director To Adapt Airman With Producer Robert Zemeckis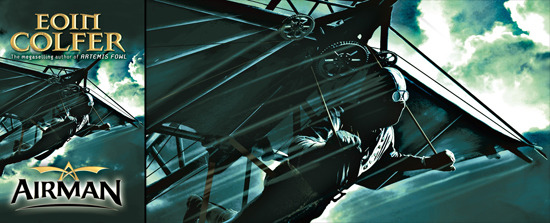 We may receive a commission on purchases made from links.
ImageMovers, the Robert Zemeckis motion-capture animation studio behind Beowulf and A Christmas Carol, has a new project. Ann Peacock, who wrote the adaptation of The Lion, the Witch and the Wardrobe, is penning an adaptation of the Eoin Colfer novel Airman, which sounds a bit like a combination of The Rocketeer and the mid-period movies by Miyazaki. Could this be the mo-cap project to convince non-believers like myself?
Variety reports that Gil Kenan, who last helmed City of Ember, is directing. I loved the production design and some of the world-building in City of Ember, but thought it was full of contrivances and uninteresting characters. So that could be a problem.
The trade reports that the story is about Connor, "a boy who lives on an island off the coast of Ireland, where his father is the king's bodyguard. When the king is murdered, Conor is blamed for the crime and thrown into prison where he passes the solitary months designing a flying machine that he will use to save his family." Amazon gives us this: "Born in the basket of a hot-air balloon at the end of the nineteenth century, Conor Broekhart is intrigued with flying. At age 14, after witnessing the murder of his tutor, Conor is sent to prison. He hopes to escape by means of a flying machine." And Wikipedia says that further down the line, "Conor constructs a hang-glider and adopts the persona of the Airman, a flying French swordsman."
All of which, rendered in the Zemeckis motion-capture style, could actually be pretty cool. Just the other day I was relating that I was impressed by how far some of the animation had come in A Christmas Carol. If the same technique was applied to a story that is both new and adventurous in spirit, I'd be a lot more willing to play along than I am in the case of a too-familiar tale like A Christmas Carol.