Trailer For Excellent Southern Gothic Film That Evening Sun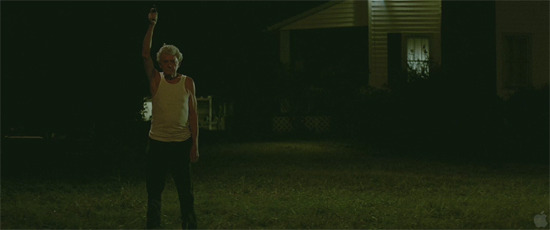 One of my favorite low-key films this year has been That Evening Sun, a sort of deep Southern gothic drama that pits two men against one another in a battle of wills. Written and directed by Scott Teems, the film stars Hal Holbrook and Ray McKinnon as the two men. Holbrook's performance is deep, nuanced and determined. The film is part of a trio of recent films about old men and their willpower, alongside Gran Torino and Get Low. It's refreshing in this day of awful young male model 'leading men' to see old guys lighting up the screen. Now That Evening Sun has a distributor and a new trailer, which you can check out after the break.
The distributor has been set for a few weeks now, but the pickup, by Freestyle Releasing, got by me somehow. No matter; at least the film will get seen, even if Freestyle's relatively low profile means that you'll have to catch it on DVD. They will put the film into a theatrical run on November 6, but I don't expect a very wide release.
Holbrook's performance is so solid that seeking out the movie is a worthwhile endeavor. He's Abner Meechum, who skips out of the old folks' home in order to return to his old Tennessee homestead. But he's surprised to find that his home is occupied. Abner's son rented it out to the Choat family, and Abner has little more than contempt for Lonzo Choat (McKinnon) and his lifestyle. Abner takes up in the shack behind the house and engages in an angry staredown with the man living in his house.
Scott Teems' script is based on the 2002 short story I Hate to See That Evening Sun Go Down, not the William Faulkner short story called That Evening Sun. (Though a bit of Faulkner is definitely in evidence in the final film.) The feature won audience awards at South by Southwest and the Nashville Film Festival, and took the Jury Award for Best Narrative at the Atlanta Film Festival. I caught it last spring at the Independent Film Festival Boston, where I was really taken with the performances. This is the sort of film that too easily slips through the cracks. But Holbrook's work, not to mention the rest of the cast, is too good to miss.
Freestyle's new trailer is embedded below, and you can see it in HD at Apple. Under that I've included the trailer that was cut for the film around the time of its SXSW premiere. The latter gives a bit more away, but is also more indicative of the tone of the film.