New Trailer For Acclaimed Claymation Film Mary And Max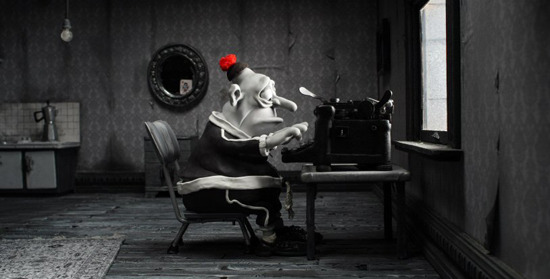 When the claymation film Mary and Max premiered at Sundance in January, it was met with great acclaim. (It's currently at 95% at Rottentomatoes.)  The film marks the feature debut of Adam Elliot, who won an Oscar with his short film Harvie Krumpet. It tells the story of an unlikely friendship. Mary is a young Australian girl with no friends. She becomes penpals with Max, an aging and obese man from New York who has a great number of neurosis and insecurities. The film's style is a bit visually goofy but also touching and surprisingly effective. There's a new trailer for the film, which is now available On Demand; watch it after the break.
The film's primary voices are by Toni Collette (Mary) and Philip Seymour Hoffman (Max) but you'd have a difficult time pegging either one right off, as they're both deep in character. (Hoffman is a bit easier to 'spot'.) The 20-year pen pal friendship that develops in the film is based on Elliot's own 20-year writing relationship with a New York man, as the director explained in an interview:
Like Max he is an atheist, he is Jewish and he has Asperger's. There are a lot similarities but the film is not based on his life. I say it's inspired by him. I never let the truth get in the way of a good story and there are plenty of embellishments.
The trailer definitely plays up the humor and whimsy of the scenario, but there's a lot more depth in the film. It hits dark themes like neglect, suicide, depression and extreme anxiety, and generally steps well outside the realm of childish animation. It's a remarkable little piece of film.
The New York Times has the odd, hilarious new trailer, which is embedded below. The film is available On Demand right now.