Exclusive Interview: Where The Wild Things Are Director Spike Jonze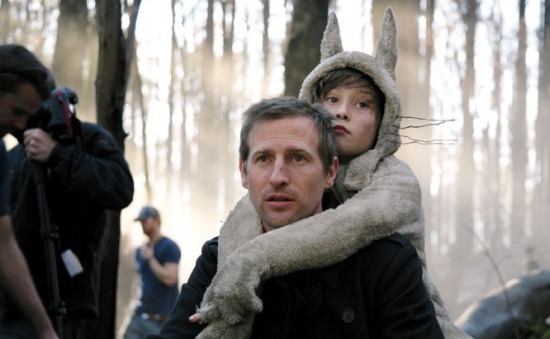 This weekend, Spike Jonze's adaptation of Where The Wild Things Are finally hits movie theaters after two and a half years of post production craziness. A couple weeks ago, I had the opportunity to sit down wth another one of my favorite filmmakers, Spike Jonze, to talk about the struggle to bring this children's book to the big screen.
Topics we go over in the 22 minute interview include the "death" of the music video director (or the dawn of the Internet filmmaker), the urge to make short films after such a long shoot, the incredible soundtrack, the task of turning a very short book into a feature film, how everyone has a personal connection to the book more akin to a poem, not writing a movie for an audience, age group, or demographic, how expectations can and will effect the audience's reaction, is this Spike's most personal film, the decision to use real creature suits in real locations instead of cgi, working with puppeteers vs. traditional actors, recording and filming the voice over sessions theatrically, how the voice actor performances influenced the suit actor performances, Giving Max Records things to react to, making a "special effects" movie, a John Lasseter easer egg or just a coincidence? What we might expect on the DVD, and are we going to have to wait seven years for his next film?
Watch the video interview embedded after the jump.
I caught Spike at the end of a very long day of junketing, so if he looks tired, that is why. It should be noted that I also conducted this interview on Day 30 of my 30 day movie trip.
I also want to share a photo with you. I was very hesitant to put this photo online, because I never want to come off as bragging/gloating. At the end of the interview Spike signed a behind the scenes book for me, and this is what he wrote: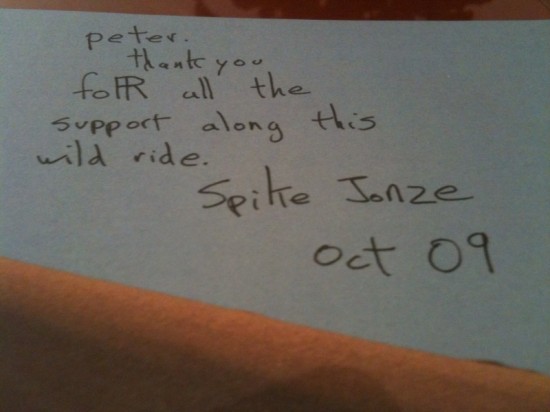 I'm posting this photo because for the past three years, you have also been along for this wild ride. We have all supported this project together, even when the studio didn't and times were tough. And while Spike signed the book to me directly, I think it is safe to say that he is also talking about you guys, the /Film readers. I hope you enjoy the film as much as I did.