Chris Pine And DJ Caruso Discuss The Art Of Making Money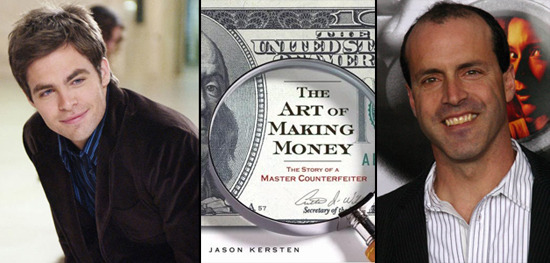 Chris Pine's pre-Star Trek film Carriers may have been dumped into a few theatres post-Star Trek, but hopefully his real post-Trek stuff will be more interesting and fare better with studio marketing departments. He's already got Unstoppable in production, and now he's part of a deal to fast-track a counterfeiting film called The Art of Making Money at Paramount.  
Variety reports that Pine and DJ Caruso are both in talks to get the film, based on a script by Frank Baldwin, in production early next year. Caruso would direct Pine as Art Williams, "a Chicago man who rose from petty theft to become a master counterfeiter."
The story is based on a factual 2005 Rolling Stone article which author Jason Kersten turned into a book called The Art of Making Money: The Story of a Master Counterfeiter. The Publisher's Weekly description of the book expands on the logline about Art Williams, saying:
With swagger, ingenuity and a devoted wife, Williams produced millions of dollars' worth of uncannily accurate bills for 14 years, till the Secret Service caught up with him. As Kersten narrates this story, he ably weaves the minuscule details of currency security with colorful portraits of underworld characters like a Chinese mob leader known as the Horse and tales of giddy shopping sprees fueled by sex, fake bills, even mischievous masquerades as priests. Illustrating Williams not only as a delinquent genius but a sensitive young man seeking paternal love and aesthetic validation, Kersten (who first told Williams's story in Rolling Stone) configures a rollicking and captivating look into a compelling criminal mind.
Easy to see how this could become a fast-paced movie influenced by Snatch and so many other '00s crime flicks. The big, rollicking first act, tense middle third and inevitable downfall are all there, basically ready-made.