This Week In DVD & Blu-Ray: Drag Me To Hell, Land Of The Lost, The Proposal, And More
We may receive a commission on purchases made from links.
This Week in DVD & Blu-ray is a column that compiles all the latest info regarding new DVD and Blu-ray releases, sales, and exclusive deals from stores including Target, Best Buy and Fry's.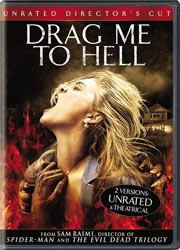 DRAG ME TO HELL
The only thing missing from this bit of glorious schlock-o-rama is 3D. So many gag-inducing substances are splattered in and around Alison Lohman's mouth, the central conflict of the film might as well be her trying to keep her face clean. This fiendish display of gore and grue, combined with an underlying sense of dark, campy comedy that's carefully balanced against the film's otherwise serious tone, is not something that's likely to appeal to all horror buffs. Those looking for an original storyline and unique characters are going to walk away unimpressed. However, as I'm sure any other Evil Dead fan will also tell you, Sam Raimi's horror expertise extends less to the general plot of his films and more to his enthusiasm and creativity with all of the scenes in between. When a girl is being haunted in your typical horror film, it's generally a matter of going through the motions, showing us the same damn thing we've seen time and time again while we anxiously wait for something exciting to happen—often to no avail. In a Sam Raimi film though, you better believe that girl is going to get the shit kicked out of her, and as her frail body flies across the room, you won't know whether to laugh or cringe. You'd think the PG-13 rating would've forced Raimi to show some restraint, but the ensuing torment is presented with such relentless ferocity—always playing on just the right visual/aural buttons—he manages to leave other R-rated horror films in his dust. Without a doubt, Drag Me to Hell is one of my favorite movies of the year, and sits right alongside Trick 'r Treat as one of the best two horror films of '09.
Blu-ray? Yes.
Notable Extras: DVD & Blu-ray – Includes both unrated director's cut and theatrical versions of the film and production video diaries.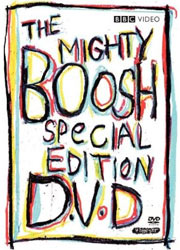 THE MIGHTY BOOSH SPECIAL EDITION DVD (SEASONS 1-3)
I already discussed The Mighty Boosh a few months back when it first found its way to DVD with individual season releases, and while normally I'd refrain from gushing a second time, this British comedy series deserves all the U.S. exposure it can get. Consider this my final plea: if you haven't yet checked out the show, please do so. It is truly unlike anything else on TV, following the surreal adventures of a lovable oddball duo as they encounter all sorts of demented, otherwordly characters, break out into musical numbers, and exchange mindlessly hilarious banter about fashion, music and hair. It's smart, imaginative, deliriously weird, and above all else, funny as hell. Buy it.
Blu-ray? No.
Notable Extras: Includes all of the special features from the previous 3 season DVD sets, plus a bonus disc with 2 hours of additional content, a sticker sheet, exclusive art cards, and a booklet.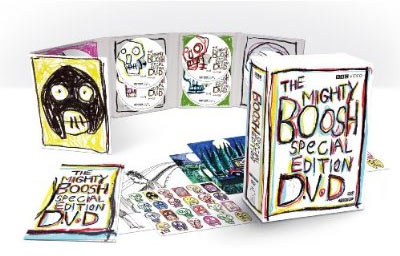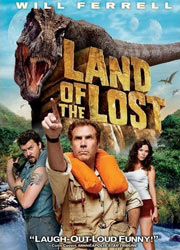 LAND OF THE LOST
A spectacular failure at the box office, Land of the Lost was easily the summer's biggest loser, making back little over half of its $100 million budget (that's including foreign box office sales, and excluding marketing costs). Was this failure warranted? Maybe. The movie itself is a serviceable rental, but I can't imagine what the hell they were thinking when they attached such a massive budget to the thing. From a storytelling standpoint, the film falls completely flat, never coming together in a cohesive, organic way and ultimately feeling like an awkwardly-compiled series of gags and set pieces. The jokes themselves fare only slightly better, with the sketch-style humor striking a hit-or-miss balance where the 'hits' yield only light chuckles and the 'misses' yield groans. Where the film thrives though, is in its sheer weirdness. There's something about the unapologetically outlandish, offbeat nature of the film's set design and creature effects—and in many respects the story—that manages to help offset the film's more obvious shortcomings. If I were to try to narrow down the audience that this film is best suited for, I'd guess pot smokers; which I suppose would make Land of the Lost a $100 million stoner comedy. (Again I wonder: what the hell were they thinking?)
Blu-ray? Yes.
Notable Extras: DVD – A commentary with director Brad Silberling, 2 featurettes ("A Day in the Life of a Big-Time Movie Star", "Devil's Canyon Gift Shop Commercial and Tour"), and deleted scenes. Blu-ray – Includes everything on the DVD, as well as 2 additional featurettes ("This Is Not a Routine Expedition: Making Land of the Lost", "Bradley, Sid and Marty: A Conversation with the Krofft's"), and Dr. Marshall's Food Diaries.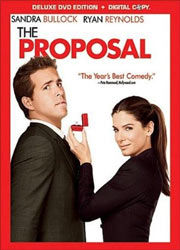 THE PROPOSAL
(Available as single-disc and 2-Disc Deluxe Edition + Digital Copy)
I probably wouldn't have even given this movie a chance if it weren't for my man-crush on Ryan Reynolds, but alas, even my awkward pant-tightening lust for that man was not enough to save The Proposal. Between the unwaveringly conventional story, manufactured moments of 'heartfelt sincerity', and laugh-free silly gag sequences (although to be fair, there's a scene with an eagle that's almost funny purely because of how ridiculously stupid it is), the film manages to fail on just about every level–comedy, romance and drama. While there are some moments of fun to be had in the spiteful interplay between the two leads, it's hard to enjoy those moments too much when getting to them means trudging through the rest of the film's bullshit.
Blu-ray? Yes.
Notable Extras: 2-Disc DVD & Blu-ray – A commentary by director Anne Fletcher and writer Peter Chiarelli, deleted scenes, an alternate ending, an Outtakes and Other Absurdities From The Proposal feature, and a digital copy of the film.
*Does not include 2-Disc Edition, which costs $22.99 at each of the listed stores (including Amazon).
Other noteworthy DVD (and Blu-ray) releases this week...
Adoration [DVD / Blu-ray] – Infestation – American Violet – Every Little Step – The Haunted Airman – The Killing Room – Natural Born Killers: Director's Cut [DVD / Blu-ray] – Futurama (The Complete Collection)
Other noteworthy Blu-ray-specific releases this week...
South Park: Bigger, Longer & Uncut

NOTE: Some deals may be in-store only.

$18.99 – It's Always Sunny in Philadelphia (Season 1 – 4), Dexter (Season 1 or 2)