Fox Orders Pilot Based On Cartoonist Peter Bagge's Characters; Alt-Comics Fans From 1995 Express Amazement, Joy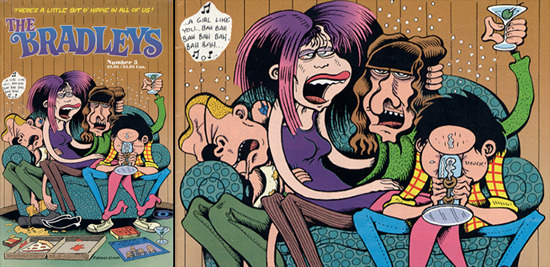 The me that is fifteen years younger is so thrilled right now. Fox has ordered a pilot for a potential animated series based on The Bradleys, which were some of the characters created by cartoonist Peter Bagge in the comics Neat Stuff,  Hate and later The Bradleys. Hate was centered around the drunken, socially fumbling antics of misanthrope Buddy Bradley, who has been Bagge's signature character for years.
If you'd told me during the series' heyday that it might have an animated series on a major network, I would have laughed. Just like I'm laughing (gleefully) now.
According to long-time Bagge publisher Fantagraphics (by way of MTV) the prime-time series would take place before the events of Hate. We'd see teenage Buddy Bradley living at home. I haven't read the series The Bradleys but knowing Hate and Neat Stuff I'd expect arguments, drinking, sullen depression, angst-ridden rage and a savvy, grousing awareness of music and books.
While Bagge's writing could be jagged and misanthropic, his art always had a fluid, crazy sense of motion that would be amazing to see animated. His characters could be fairly realistic in one panel then exaggerated with long, rubbery limbs in the next. He captured both the electricity of the early '90s and the sense that it was being co-opted even as that energy flourished. No one satirized the burgeoning indie scene in music and comics better than he did. What would he produce now, many years later, as things have changed so much? I'm curious.
(I don't mean to make it sound as if Bagge is no longer active; he's still producing comics, including some work for Marvel and DC over the past few years.)
This wouldn't be Bagge's first foray into animation. His characters were animated by others for a Mad TV promo a couple years back. Years ago he designed characters for a series of animated commercials (for Round Table Pizza, no less, see tiny versions here) and also did a web series called The Murray Wilson Show, based on the life of the father of the Beach Boys' Brian Wilson. The first episode of that is below.