Video: Where The Wild Things Are, Art Director Sonny Gerasimowicz, And The Film As A Movement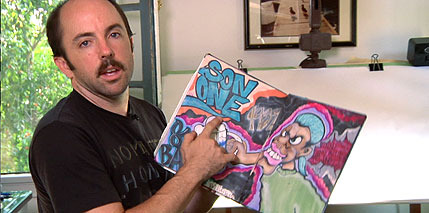 While in Ireland this week for a set visit, two of the more interesting dinner discussions amongst peers regarded the dismal state of studio poster art and the box office potential for Where the Wild Things Are. It's my belief that if WTWTA is a hit, it will signal a shot-call for a new era of mainstream films, ones that put creative cred, talent, and integrity ahead of this generational notion that people are generally dumb as s*** and desire basking in dumber s***. But before the latest tracking figures for the film arrived, the general sentiment— one I didn't share–was that the film would not open to boffo numbers; even $20 million was said to be unlikely. Now the inside word has the film tracking surprisingly well, possibly even as high as $40 million. If this becomes a reality, it will partially be due to the same 20somethings and teenagers decried by the olds for not watching and fellating The Hurt Locker.
No "s***." While many people associated with the film and even staffers at /Film feel the movie strays from the family film norm (omg no!), the connected, youthful branches of WTWTA run deep underneath a dying and blind old media. As a whole, the project represents nothing less than an important pop cultural movement, one that encompasses a generation's best rock groups (Liars, Yeah Yeah Yeahs), fashion cachet via establishments like Opening Ceremony, and the global new media influence that is the Vice corporation and its video offshoot VBS.tv. Spike Jonze is the hands-on creative director at VBS, and as such, they are releasing privy interviews with the creatives behind Wild Things. Below is a very cool and candid interview with Sonny Gerasimowicz, an art school drop out and graf artist hired by Jonze to envision and help create the look of the creatures (with WTWTA creator Maurice Sendak's blessing, also discussed) for the cinema.
Before entering the fold, Gerasimowicz used to grind by "selling out" and designing endless, s***ty Hollywood posters, complete with those familiar Photoshopped "head trips," for dreck like Deuce Bigelow: European Gigolo. His interview nicely captures the frustration felt by so many countless creatives out there like himself, bald and otherwise, and the relief that the game may finally be changing; that the struggle in the system is ultimately worth it and being changed by outsiders...
That's probably one of the most valuable things I've learned [on the film]. If you have a good idea, believe in it, push it. Trying to figure out what someone else wants is the worst way to do it as far as I'm concerned.
As seen in the vid, at Jonze's request Gerasimowicz mailed him example illustrations of big grizzly bears "with hangovers or something...maybe they had more human emotions." These are humorously what got him the gig. Once he came aboard, he parlays how Jonze didn't care if his sketches and ideas came on traditional paper or were jotted on bar napkins. He also attempts to communicate the stress that was first speaking with Sendak over the phone per his drawings; tellingly, Sendak seems to have a casual creative process and intuition not unlike Jonze's.
In the film, Gerasimowicz ended up playing the white goat, Alexander, voiced by Paul Dano, thereby embodying the very creature he helped create via a suit constructed by the Jim Henson Company. Co-star Catherine Keener suggested him on a whim to replace the original, unnamed actress, who was said to be "overly trained"—a recurring anti-coda for this film. There is some nice interview footage of him in the suit that gives off the vibe of a high concept, impossibly cool birthday party. At this point, I just can't see general audiences ignoring/shunning this film and its makers for being different and dreaming bigger.