Ellen Page, Alia Shawkat And Sean Tillmann Writing HBO Series Stitch N'Bitch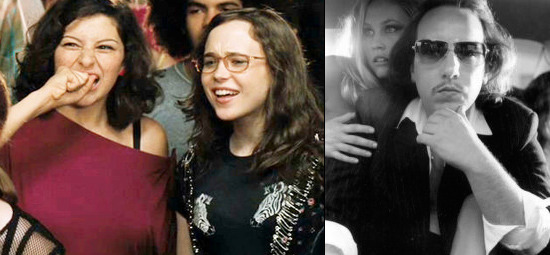 Oh, I can already see the responses to this one in my head. Ellen Page, Alia Shawkat and Sean Tillmann (the latter is AKA Har Mar Superstar) are writing and exec-producing a new show for HBO called Stitch N'Bitch. We don't know much about the project so far, but the trade write-ups indicate that it centers around a creature found inscrutable and frightening by much of the film blogging community: HIPSTERS.
THR reports that the single-camera comedy show will follow " two painfully cool hipster girls as they relocate from Brooklyn's Williamsburg neighborhood to Los Angeles' Silver Lake enclave in hopes of becoming artists — of any kind." (Dancers are artists, right? Let's set an episode or two at Jumbo's Clown Room.) Based on that description, I'm guessing that one of the two girls is Stitch and the other Bitch. (EDIT: Or, as one of our comments points out, this could be inspired by or based on the book Stitch 'n Bitch: The Knitter's Handbook or it's author.)  There's a note that Page and Shawkat (who worked together on Whip It) may star, but that's up in the air right now.
I'll give this one the benefit of the doubt until given some reason not to. I like Page, love Shawkat and, despite the fact that the lead characters are hipsters, always so easy to hate, this is a comedy. More than likely, there's a lot of good poking fun at rootless, foolish trust-fund kids in store. I'm mentally conjuring up an image of a show kind of like Absolutely Fabulous or (dare I say it?) The Young Ones, both of which were able to lampoon extreme or sub-cultural characters without actually treating them poorly.
How much will these three actually write, though? Seems like with a full film career for Page and an expanding one for Shawkat, their writing involvement is destined to be more of a supervisory role than anything else. No problem there, really, I'm just curious.