Arrested Development Movie Moving Forward. No, Really. For Real.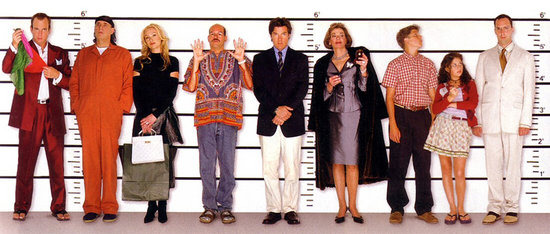 It's getting to the point where I feel a little silly writing every last little word about the potential Arrested Development movie that comes down the wire. But that's what we do, right? So here it is: there is...will be...a script for an Arrested Development movie. Soon. So very, very soon. Maybe. If things go well.
THR reports the sky-rending news that Mitch Hurwitz has begun work on a script with series co-exec producer James Vallely. This is notable, I guess, because THR reports that Hurwitz has said he wouldn't start a script unless the entire cast was in place to return for the film. Michael Cera had been reported as the holdout for some time, but maybe (Maeby?) he's in now. Your guess is as good as mine. Some of the cast have even said in the past that Hurwitz had already been working on the script, but perhaps they just caught him taking notes on the behavior of banana stand employees in Santa Monica.
What's the story for the film? Start guessing there, too. Back during Comic Con Jason Bateman said the movie wasn't dead and that the plot could jump off from the end of the television series, when Maeby pitches the family's story to Ron Howard as a movie. That's more of a jumping off point than a story, though, so there will have to be a lot more revealed than that.
Fox Searchlight is still behind the film, and Hurwitz will direct. This would seem like the necessary point for me to include my boilerplate text about how the show was great, but probably better as a self-contained entity and that it's already been too long and we don't really need a movie, but I'll let everyone hash that out in the comments. At this point, I'd be happy about the film really happening just so we could finally have something more than half-news and rumor to report about.