Casting Notes: Haggis Hires Neeson; A Shield Star Fights Predators; The Elder Skarsgard In Thor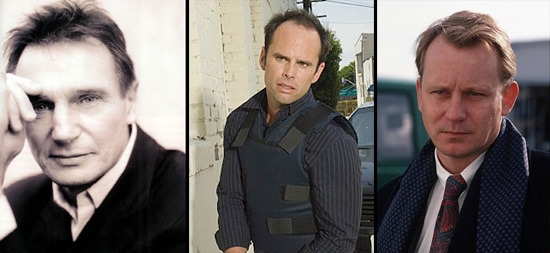 It's Monday morning, so the casting news is just starting for the week, but we've already got brief tidbits about a couple of marriages between talent and movies that you may (or may not) be excited to see.
Since he made Taken into a genuine hit, Liam Neeson has owned more cred than ever. But is he enough to get you into the seat for a Paul Haggis movie? The writer/director's The Next Three Days, a remake of a French film, could be interesting. It has a husband (Russell Crowe) looking to break his wrongly imprisoned wife (Elizabeth Banks) out of jail. At least, she says she's wrongly imprisoned. Now Liam Neeson will cameo as a guy who has escaped from prison a few times and advises Crowe's character on his options. [THR]
After the break, news about Predators and Thor.
Robert Rodriguez and Nimród Antal's Predators should be going full steam ahead any minute now, but the only significant casting we've heard is Danny Trejo's role as Cuchillo. (Was there any doubt that Trejo would end up in this one? Not from me.) Now it looks like Walton Goggins, aka Det. Shane Vendrell from The Shield, will end up on the Predator planet. ComingSoon has the news, but they don't know what role he'll be playing.
Finally, Stellan Skarsgard will be in Thor. Of course he'll be in Thor; Stellan Skardgard has to have something to do with Asgard. And because he's an old pro who probably doesn't give a damn about being in a Marvel movie or not, he's actually read the script. A translation of his statement to the Swedish site Ystads Allehanda says "They wanted me to sign without reading the script. That I refused to do. Then they sent one to me that was so coded that I could only print one copy."
We don't yet know who Skarsgard is playing, nor how large the role is. His son Alexander was once a fave for the title role before it went to Chris Hemsworth. [via ComingSoon]