The Brit List 2009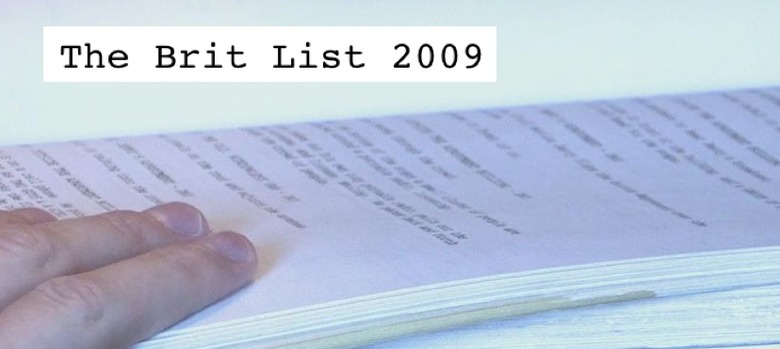 We've often referred to The Black List, the annual countdown of favorite scripts compiled by canvassing the opinions of film industry folk, but never before, I believe, The Brit List. The principal with this one is exactly the same, it's just limited to films out there on the British market. In 2007, the list was topped by The Men Who Stare At Goats, now revving up for release with George Clooney and Ewan McGregor in the leads. The new list is a surprising and most newsworthy affair, not least because of the way it sheds new light on a curious old Sacha Baron Cohen rumour.
The winner of the 2009 Brit List poll is Good Luck Anthony Belcher, a fantasy comedy vehicle for James Corden from an original idea that he supplied to screenwriter George Kay. After Corden's career u-turn in the monsterturkey Lesbian Vampire Killers this is a most welcome burst of light at the end of his cinematic tunnel.
The Guardian describe Belcher as being about:
...a loser who is awarded a week of perfect good fortune by the celestial Department of Good Luck, as compensation for the fact that they previously lost his file down the back of a cabinet. But Belcher discovers that sudden success can be a mixed blessing.
Of course he does. The film is apparently all set to go into production with director Jim Field Smith who recently wrapped on She's Out of My League, a Dreamworks rom-com starring Jay Baruchel and Lindsay Sloane, and has made several shorts with Corden in the past.
If you're British, you're probably assuming that Matthew Horne will be playing Corden's best mate in Belcher. I'd put money on it.
Peter Straughan, screenwriter of The Men Who Stare at Goats, has made a return to the list with Frank. It's co-written with Jon Ronson, the writer of the original Goats non-fiction book.The Guardian referred to Frank as Frank Sidebottom, which at least revealed what it would be about: the papier-mache headed musician and TV presenter. If you don't know him, then let me forgo any kind of fudged explanation and tell you that he really needs to be seen to be believed before sending you over to Youtube.
I tweeted Ronson to congratulate him on Frank Sidebottom, as I then believed the script was called, making the list. Here's his reply:
Thank you! It's a fictional story inspired by my time with Frank. And they've got it wrong. It is just called 'Frank'.
Ronson previously published an account of his time in Sidebottom's band in... yep, The Guardian. Small world. Unfortunately, it's also a world in which a simple bit of Googling (or reading Ronson's story) can reveal Frank Sidebottom's 'real' identity – though I wish it wasn't.
I'd previously reported on Ronson writing two fiction screenplays. One now tagged, one still flyin' UFO.
Sharing second place Brit List are Simon Beaufoy's follow up to Slumdog Millionaire, Salmon Fishing in the Yemen, Corsica 72 by Bond regulars Neil Purvis and Robert Wade, and Oliver Parker's Now is Good. Ranking lower are Terry Gilliam and Tony Grisoni's The Man Who Killed Don Quixote, presumably in its newly improved incarnation, Jonathan Glazer's Under the Skin, and a Paddington Bear big screen adaptation by Hamish McColl and Paul King.
Another remarkable entry is Dan Mazer's screenplay, Eurovison. We reported on this film back in August when The Sun – the flip side to The Guardian in many respects – pushed forward a rumour that Sacha Baron Cohen would be following up Borat and Bruno with another mockumentary, this time set in the world of the Eurovision song contest. On this new evidence, it would seem that the film is to be fully scripted. Could one of the skeletal screenplays that props up the narrative structure of Bruno or Borat be Brit List stuff? I don't think so.
Update: Screen Daily have the full list. Trap for Cinderella by Iain Softley? Sounds like something I'd really want to see at least.
Good Luck Anthony Belcher by George Kay
Corsica 72 by Neil Purvis & Rob Wade
Now Is Good by Ol Parker
Salmon Fishing In The Yemen by Simon Beaufoy
Balance Of Power by Deborah Davis
Best Exotic Marigold Hotel by Deborah Moggach & Ol Parker
The Rapture by Daniel Hardy & Rupert Wyatt
Conviction by Bill Gallagher
Frank Sidebottom Jon Ronson & Peter Straughan
I Wish I Wish by Peter Souter
Love Minus Zero by Emma Forrest
A Million Miles An Hour by Brendan Grant
The Shimmering Essence Is Approaching Its Target aka Ponte's Tower by Michael Thomas
A Bear Called Paddington by Hamish McColl & Paul King
The Beautiful Fantastic by Simon Aboud
Cuckoo by Francesca Brill & Luke Watson
Embassy by Jon Baird
Eurovision by Dan Mazer
Flawless Skin Of Ugly People by Jack Thorne
Grabbers by Kevin Lehane
Great Expectations by David Nicholls
The Haven by Mike Lesslie
The Man Who Killed Don Quixote by Terry Gilliam & Tony Grisoni
Now, Love by Virginia Gilbert
Rafta Rafta by Ayub Khan Din
Red Circle by Steve Knight
Rookwood by Steve Sarossy
Snatched by Lee Patterson
Trap For Cinderella by Iain Softley
Treasure Island by Nail Johnson Under
The Skin by Jonathan Glazer
The Wettest County by Nick Cave
What Was Lost by Jeremy Brock
Wingman by Mat Kirkby