Weinstein Company Shuts Down Halloween 3D. Halloween 2 Set For Re-Release.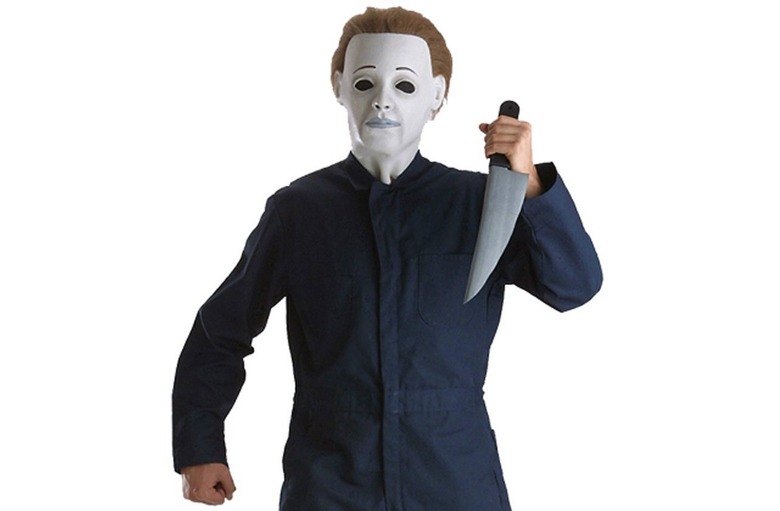 According to Deadline minutes ago, the Weinstein Company has temporarily (permanently?) pulled the plug on pre-production for Halloween 3D. With rumors circulating today throughout the industry that Summit Entertainment, flush with Twilight monies, might pursue an acquisition of TWC, this is not a good look. Sources tell Nikki Finke that TWC simply believed the production schedule was too fast—November '09 start for a summer '10 bow—only after receiving the script today. In the meantime, haters of Rob Zombie's recent Halloween II will be glad to hear that TWC is re-releasing the $31m grossing sequel on Halloween, news that demands the following: Derrrr.
Per the next sequel, as Zombie stated even before the August release of H2, he had no plans to develop and direct a second sequel in his polarizing update of Michael Myers. Making things a bit confusing from the get-go then, was the public announcement of Halloween 3 (-D) almost immediately after H2 opened. No clarification was given as to why the number '3' had to be involved, 3D gimmick aside, in the title, if the film wasn't to follow what had come before. A director, Patrick Lussier, was quickly attached to the film, after having a surprise hit with My Bloody Valentine 3D, a remake of the cult '80s slasher.
Finke says that TWC will simply proceed with the film once Lussier's schedule clears. But according to IMDB, he only has one project currently in development, entitled Headhunter. It's all a bit fishy. Could the so-so box office receipts for Zombie's H2 also be to blame for the decision? Well, as aforementioned, why now if they saw the opening numbers before making the 3D announcement? Also up for debate is whether H2 did categorically "lousy" numbers, a claim Finke is fond of reiterating.
The film's budget was only $15m, a bit low for such a high-profile sequel. Sure, Zombie's first installment grossed a huge $30m opening weekend in 2007 and went on to gross nearly $60, so the sequel did half-and-half those final figures. But what Finke and many analysts overlook in the weeks after is that H2 opened on the same weekend as The Final Destination, an R-rated 3D franchise horror film that followed a similar success pattern as Halloween: $27m opening/$62m total (as of now). Chances are that H2 would have done gangbuster numbers in line with the first film without this head on collision, which is rare for any slasher sequel. See the diminishing returns for Platinum Dunes' Texas Chainsaw Massacre franchise.
The point being: By no means do I have a horse in this race, but it's a pretty obvious observation. The Halloween films are still profitable—H2's grosses are nothing like a Land of the Lost or a Pathfinder, for the studio. Add in DVD and TV rights, and it's more than in the black. So, I really don't think H2's performance plays into this late night decision, but I also don't buy TWC's explanation about not wanting to rush H3D. Inglourious Basterds was a much harder film to make, and Harvey Weinstein and Co. put Quentin Tarantino's ass into gear, as did the director himself. Lussier knew the tight schedule when he came aboard, and I look forward to his comment on the matter at a later date.
Michael Myers may be chillin', but he's not on ice. (Worst sentence ever.)