First Look: The Other Guys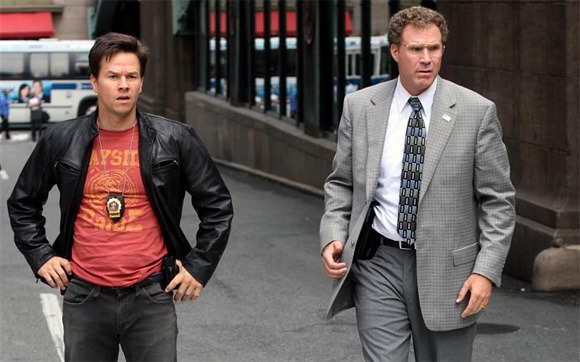 Unofficial photos have evidently leaked from the Big Apple set of Adam McKay's The Other Guys. As First Showing notes, these might as well be premature studio-approved stills from the action comedy, which just began filming and is due late summer 2010. Missing from the pics are new recruits Sam Jackson and Dwayne "Tooth Fairy" Johnson as the badass cops to Will Ferrell and Mark Wahlberg's desk-assigned officers. I expected the latter duo to look goofier and less kempt—no vintage Panama City t-shirts?—but the style is in line with what McKay has called a less surreal tone when compared to his classics, Anchorman and Step Brothers...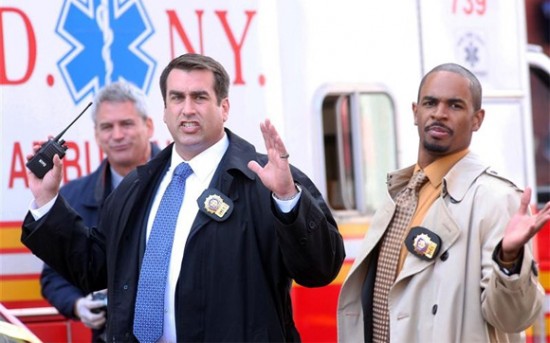 Shown above are Rob Riggle and Damon Wayans Jr. as yet another police duo in the film. There has been speculation that Wayans Jr. has replaced Craig Robinson (The Office) in the role of Riggle's partner. This photo points in favor of the rumor.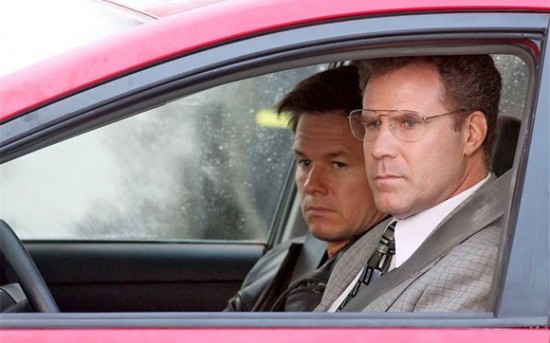 Also appearing in the film in unspecified roles are Michael Keaton, overdue for a comeback, and Eva Mendes, who deals with a different kind of cop fuck-up in Werner Herzog and Nic Cage's upcoming Bad Lieutenant: Port of New Orleans. The primary villain in the film will be played by Steve Coogan, who has successfully transferred some of his U.K. comedy rep to the U.S. mainstream with Tropic Thunder and Hamlet 2; I doubt McKay will have a problem finally unlocking all of his crazy genius in a summer blockbuster.
It's funny that seeing Ferrell in a drab desk-cop suit and anal retentive spectacles can change your mental picture of a flick. Looking forward to this one much more than Kevin Smith's A Couple of Dicks, whose production has had troubled buzz of late. If you're still vague on what Guys is about, McKay explains...
"Basically the idea is that you have your star cops of New York City, picture like a Bruce Willis and Mel Gibson-type pair," McKay explained. They're the guys who get all the car chases, all the girls. But this is the story of the guys in the desk next to them, the other guys. ...The premise is you have the stud cops in New York City, and the other cops are the wannabes who want to be the stud cops," he explained. "So Ferrell and Wahlberg have another pair of cops who are competing with them to be the stars.
via Collider