Barf City: Clip From The Human Centipede (One Of The Grossest Movies Of All Time?)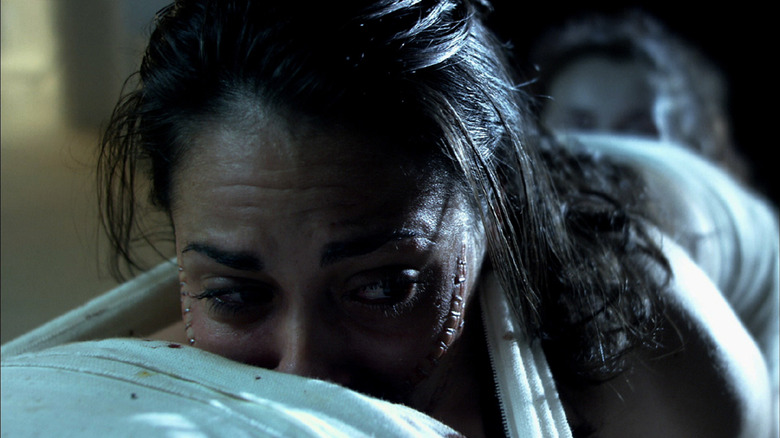 Over the summer, I briefly heard about a torture-pornish horror movie entitled The Human Centipede (First Sequence) but didn't give it (or the title) a second thought. Well, over the weekend Centipede slithered into the orgasmic Fantastic Fest in Austin, Texas and after the screening the buzz suddenly recalled the barfers-barfing-on-barfers scene from Stand By Me. Capitalizing on the barf, the producers have released a teaser clip from the film, posted below. Combined with the plot synopsis, also below, you might just barf, so put away your burrito and wait a few minutes if applicable. Seriously, this is likely the movie for people who think Deadgirl is for pussies. It sounds like a cyclic-themed film that Matthew Barney might have thought up if he was on death row. Etc. As the parenthetical title implies, a sequel is officially planned. Might this be the next-lev Saw franchise? A diverse, international cast doesn't hurt. Haha. Wait until Nikki Finke gets a load of this...
[Ed. Note: If you can't guess, the following clip is obviously NSFW]
Here's what Rodney Perkins had to say on the official FF write-up...
Tom Six's The Human Centipede (First Sequence) is an insane biological horror film that enthusiastically explores territory that few filmmakers dare to tread. In The Human Centipede, Dr. Heiter (Dieter Laser) is a leering, sepulchral surgeon from Germany whose specialty is separating Siamese twins. Dr. Heiter decides to evolve his craft by sewing together living beings together at the "mucous-cutaneous zone" (guess) in order to create Siamese triplets with a single digestive system. After his experiment in creating a three-segment rottweiler ("a beautiful three-hound construction") fails, Dr. Heiter tries again, shifting his attention to humans. First, a trucker is stolen away while relieving himself on the side of the road, Next, two clueless party girls who come knocking on Dr. Heiter's door after getting lost in the German forest get pulled into the experiment. After erasing the trucker from the picture, the doctor finds another victim: a crazed Japanese man wandering around Germany.
The doctor concludes the initial phase of his experiment by splicing together the two girls and the Japanese man. At this stage, the film really goes berserk as Dr. Heiter attempts to impose his personal brand of order and discipline on an increasingly out-of-control situation.  ...HUMAN CENTIPEDE (FIRST SEQUENCE) delivers exactly what it promises, and then some.
Interestingly, /Film's Brendon saw the film across the pond at FrightFest, and humorously parlayed his "why is this 'sick'?" reaction...
Much of the foyer conversation around this film revolved around how 'sick' it was, or how 'dark'. I heard a lot of claims that it was the most 'fucked up' film in the festival. Okay... I didn't see it that way and I'm sure you'll judge me how you will.
Well, I would define the ass-to-ass scene in Requiem for a Dream as 'sick,' Brendon, no matter how well-executed, so when it comes to a "ass-to-mouth" caterpillar chain-gang, I feel the word is just as apt here.  The film was written and directed by Tom Six, a native and resident of Holland, who previously directed the foreign films Gay and Honeyz, neither of which I have seen. In the interview below, Six says that he took inspiration for the disturbing experiment-premise from similar documented acts involving twins during the Holocaust.
American actress, Ashlynn Yennie, smiles and describes being a part of the caterpillar with: "It was a little uncomfortable. ...I think the most uncomfortable part was being down on all fours with your mouth, with your mouth...your jaw hurts mostly, because your mouth was open on a bit. But it wasn't that bad, I'll be honest. It wasn't that bad to be on all fours [laughs]." I like her. She goes on to describe her family's reaction as, "Whoa, that's totally different from what we thought."
Some highlights from Twitter...
ultimazombie88 Human Centipede: The most fucked up, disturbing movie I have ever seen. Hard to watch but executed phenomenally
ColeAbaius Human Centipede may be the worst movie I've ever seen. Not gross, just terrible. Rant in review form to come.  - Note Cole Abaius works for Film School Rejects and tends to have agreeable tastes...
gerttt Talks of HUMAN CENTIPEDE sequel? I might actually vomit in the theatre next time.
white_lightning it takes a lot to make me almost vomit just from READING something."the human centipede" movie sounds truly horrifying and disturbed.chills
katebrown Sitting down to watch human centipede ALONE. You are all aholes i am going to come vomit on all of you at the highball after