Magnet Announces Six Shooter Film Series 2.0: Bronson, Ong Bak 2 And More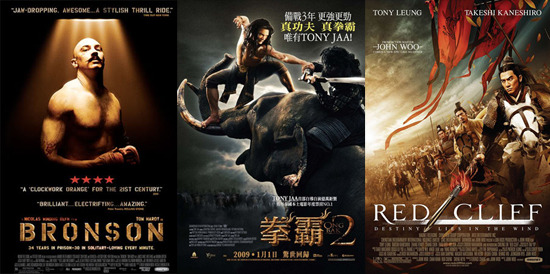 When you've got a slate of niche films, sometimes coming up with an umbrella label to market them all as one package is the best way to go. Magnolia / Magnet tried this to good effect last year with the Six Shooter Film Series, which packaged international genre films like Let the Right One In, Big Man Japan and Timecrimes for release On Demand and in theatres. The idea is that if viewers like one film in the series, they're more likely to check out the others. Now the second 'season' of films is all packaged up, and Magnet has sent out a tidy press release to announce them.
What you'll see below are the first five films in this year's series; the sixth is being kept secret for now. All the films but one are getting an Ultra VOD release before their theatrical run, which basically means the films will be available On Demand for a month before hitting theatres. The one holdout is Bronson, which like Let the Right One In last year, will just hit theatres.
Here's the rundown, from the press release:
ONG BAK 2: THE BEGINNING, Tony Jaa's highly anticipated sequel to Ong Bak is #1, which opens theatrically in select markets on Friday, October 23rd, after debuting today on VOD platforms as part of Magnolia/Magnet's Ultra VOD program.
BRONSON, the Sundance favorite from director Nicolas Winding Refn (director of the PUSHER trilogy) is #2, is about to make an appearance at this year's Fantastic Fest prior to its opening in NY on Friday, October 9th and expansion through the month of October. Called A Clockwork Orange for the 21st century, BRONSON features what many are calling the performance of the year from Tom Hardy as notorious British inmate Charles Bronson. The film is being given the same kind of release in the same position in the series as last year's Let The Right One In, which proved to be one of the year's best foreign film success stories.
RED CLIFF is #3—a monumental epic and return to form for action maestro John Woo, reuniting him with international superstar Toney Leung for the first time since 1991's Hard Boiled. The most expensive and most successful Asian film of all time, RED CLIFF is a period war film depicting China's legendary Battle of Red Cliff from 208 AD. Available on VOD beginning October 22nd, the film will open in select theaters on Friday, November 20th.
DISTRICT 13: ULTIMATUM, another anticipated sequel is #4, and is making its North American Premiere in Austin at Fantastic Fest. Like its predecessor, District B13, which introduced the world to the jaw dropping martial art, parkour, ULTIMATUM is written by French action master Luc Besson, and stars parkour phenoms David Belle and Cyril Raffaelli. It will debut in January 2010 on VOD with a February theatrical release.
THE WARLORDS, starring Jet Li, Andy Lau and Takeshi Kaneshiro is #5. Another historical action epic, it was a huge critical and commercial hit in China much like RED CLIFF. THE WARLORDS will debut on VOD in February 2010, with a theatrical release in March.