Remake Of The Fly To Be Directed By... David Cronenberg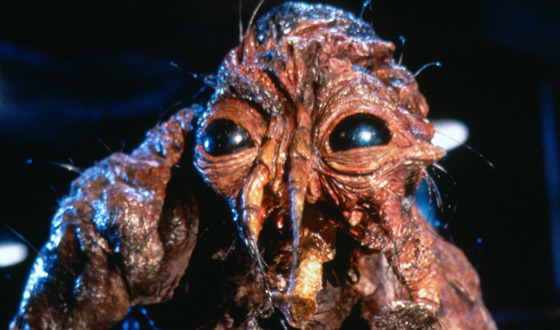 Note: With The Matarese Circle, once a potential vehicle for Tom Cruise, seemingly on the back burner, might this be David Cronenberg's next film? The director also has the previously announced Don DeLillo adaptation and "limo drama," Cosmopolis, in development.
Predictable news this evening with a double-take twist. David Cronenberg is said to be developing a remake of his 1986 sci-fi horror classic The Fly as a potential vehicle for him to write and direct. Risky Business reports that technological leaps are the main factor in Cronenberg's decision to remake the material, which is a common excuse—what, no 3D catch?—but in this case, justifiable. Cronenberg's The Fly was itself a heightened and gory creature feature remake of the 1958 film of the same name starring Vincent Price. Last year, Cronenberg was involved in an opera production of the film for the stage with Fly composer Howard Shore. Common sense says the opera was the decision's spark.
I think when you get too comfortable, you need to scare yourself by trying something you've never done before. It comes from the same place as wanting to direct an opera, or write a novel, or curate an Andy Warhol art exhibit.
The budget for Circle would certainly be Cronenberg's largest and undoubtedly make for his biggest mainstream effort; and based on early word his Fly remake would be similarly epic in scope. The guy has been in the Canadian trenches creating perverse classics like Dead Ringers, Scanners, and Videodrome for years, so I don't have a problem with this creative path. Also of note: the latter two films mentioned in the previous sentence are both up for remakes, with Universal having announced a Videodrome reboot (ack!) in April as well.
Synopsis of Cronenberg's The Fly: "Seth Brundle (Jeff Goldblum) is a research scientist, employed by Bartok Sciences, who has invented 'Telepods' two matter transmission pods that teleports any object through space from one 'Telepod' to the other 'Telepod.' But, it is until Seth meets journalist Veronica Quaife (Geena Davis) who inspires Seth to correct the system, that Seth achieves successful teleportation. But something goes horribly wrong, when Seth uses himself as a guinea-pig in a matter transmission experiment, as he teleports himself, unaware his genes have been fused with a house fly that was trapped in the telepod with him. Seth, now finds himself slowly transforming into a terrifying mutant creature known as 'Brundlefly' as he finds himself in a fierce battle as his mutated genes begins to take over.
The Fly is probably my fourth favorite Cronenberg movie, following top-to-bottom: The Brood, Videodrome, and A History of Violence. The project spawned a fun if critically and fanboy decried sequel in 1989 starring...yep, Eric Stoltz! It's disheartening when visionary directors decide to revisit superlative material—Ridley Scott's Alien prequel comes to mind—and The Fly is just that. This is a time when cinema needs directors like Cronenberg to speak out against the studio recycle bins, but maybe he'd rather get his hands dirty than see it remade by Brett Ratner.
Shake an antenna-sized fist in the comments.