Samuel L. Jackson, Dwayne Johnson, And Steve Coogan Join Adam McKay's The Other Guys.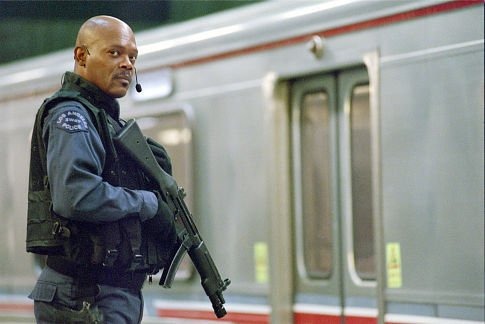 The ensemble cast for The Other Guys, the latest collaboration between funnymen pals Will Ferrell and writer/director Adam McKay, is of a higher-profile than on their previous flicks, sans Anchorman. Today brings news that Samuel L. Jackson and Dwayne "Tooth Fairy" Johnson will play stud "super cops" to the unfulfilled desk pigs played by Ferrell, Mark Wahlberg, Rob Riggle, and Craig Robinson. In addition, Brit comedy and Alan Patridge mastermind, Steve Coogan, will play the villain, automatically kicking the craziness up a notch. Last week we reported that Eva Mendes, Michael Keaton, and a Wayans have mounted up for unspecified roles.
Basically the idea is that you have your star cops of New York City, picture like a Bruce Willis and Mel Gibson-type pair," McKay explained. They're the guys who get all the car chases, all the girls. But this is the story of the guys in the desk next to them, the other guys. ...The premise is you have the stud cops in New York City, and the other cops are the wannabes who want to be the stud cops," he explained. "So Ferrell and Wahlberg have another pair of cops who are competing with them to be the stars.
As we previously reported, McKay has said that the film will be more grounded in reality than Step Brothers and Talladegga Nights and function as an comedy-actioner. Of course, a rating on the film hasn't been made, but I expect a PG-13, hope for an R, the usual. The film is scheduled for release late next summer and many wonder how it will compare to Hot Fuzz, Simon Pegg's UK favorite that also starred Coogan.