Jaimie Alexander And Colm Feore Join Thor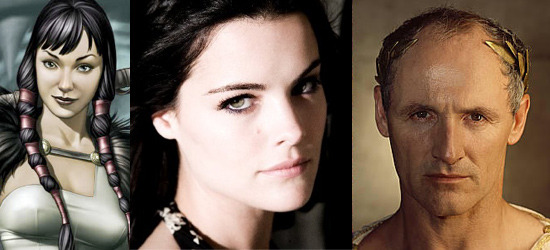 Two more actors have joined Thor. Jaimie Alexander (Kyle XY) and Colm Feore (Riddick, Face/Off) have joined the cast of Kenneth Branagh's Marvel comic book adaptation. Alexander will play Sif, who is skilled Asgardian warrior who can hold her own, and is a love interest of Thor. However, the identity of Feore's character is being kept tightly under wraps, and THR claims "the studio isn't even sending the actors the script — though it is known to be a villain."
Alexander and Feore join Chris Hemsworth (who played George Kirk in Star Trek) who plays the title character, Tom Hiddleston as Thor's nemesis Loki, Brian Blessed as Odin, and Natalie Portman who plays Thor's human love interest Jane Foster.
Written by Mark Protosevich, the story begins as the arrogant God Thor is sent by his father Odin to learn humility in the body of a partially disabled medical student Donald Blake. He discovers Thor's hammer and learns to change back and forth into the Thunder God. On Earth, Thor "learns what it takes to be a true hero when the most dangerous villain of his world sends dark forces of Asgard to invade Earth." Marvel has announced a May 20th 2011 release date for the film.