This Week In DVD & Blu-Ray: Observe And Report, 30 Rock (Season 3), And More
We may receive a commission on purchases made from links.
This Week in DVD & Blu-ray is a column that compiles all the latest info regarding new DVD and Blu-ray releases, sales, and exclusive deals from stores including Target, Best Buy and Fry's.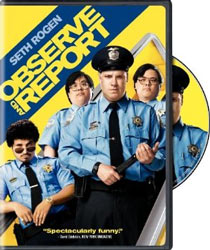 OBSERVE AND REPORT
It's understandable that Observe and Report would polarize audiences. That the film even received financing remains surprising to me. Generally, studios wouldn't dare greenlight a film as uncompromising as this without the promise of Oscar nominations down the line. I can only imagine they were banking on the financial viability of Seth Rogen, a casting decision that is both one of the film's greatest assets and, temporarily, its greatest weakness. That weakness is not an issue with the film itself, but rather audience expectations. As much as I'd like to blame the trailers for misleading viewers, this is not an easy film to market, and as such, most ticket buyers walked into their screening ready for a simple, familiar formula: Seth Rogen + raunchy R-rated comedy. They were not, I suspect, prepared for a dark, cynical satire about American machismo and the country's absurd obsession with guns, violence, and, to put it bluntly, obtaining satisfaction off inflicting pain on others. Even in watching the film though, these undertones may not be immediately clear; where other directors may have felt the need approach the material in a way that more clearly condemns Ronnie's actions, writer/director Jody Hill wisely adopts the mindset of his insane lead character, playing the entire twisted tale as an inspirational underdog story. This was a brilliant decision on Hill's part, but it came at a cost: fail to pick up on those elements, and much of film's humor is lost. What should be (and is) scathingly hilarious instead comes across as ugly and dumb. Is it really any wonder that the film failed to find success at the box office? Thanks to DVD though, Observe and Report finally has a chance to find its niche audience. This is a movie that's destined for cult status, where viewers can fully appreciate what Jody Hill was trying to do. The year's not quite over yet, but as of now, Observe and Report is my pick for funniest movie of the year, as well as a lock for my Top 10 of '09.
Blu-ray? Yes.Notable Extras: DVD – No extras. Blu-ray – A picture-in-picture commentary track with Seth Rogan, Anna Faris, and director Jody Hill, three featurettes ('Seth Rogen & Anna Faris: Unscripted', 'Forest Ridge Mall: Security Recruitment Video', 'Basically Training'), additional scenes, and a gag reel.
BEST DVD PRICE
Target
Best Buy
Fry's
$19.99
$16.99
$16.77
Amazon – $16.99
BEST BLU-RAY PRICE
Target
Best Buy
Fry's
$25.99
$25.99
$24.77
Amazon – $24.99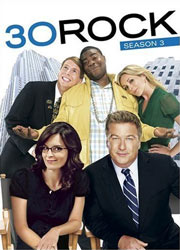 30 ROCK (SEASON 3)30 Rock is not a show that needs to be analyzed too deeply. The characters aren't complex, the comedy isn't thought-provoking, and it has very little emotional resonance. These are not complaints; the show tries to accomplish none of this. 30 Rock has only one goal: to make you laugh. And as I'm sure all fans would be happy to attest to: it does, with spectacular results. Season 1 had a somewhat rocky start, but by the show's second outing, it really managed to find a snappy, consistent rhythm. Season 3 opts to not mess with success, and offers up another 22 no-risk episodes of wacky, witty, spirited hilarity. Fine by me; keep 'em coming.Blu-ray? No.Notable Extras: Audio commentary on seven episodes, deleted scenes, Behind-the-Scenes with the Muppets, 1-900-OKFace, 'Kidney Now!' Table Read, Making of 'Kidney Now!', Alec Baldwin's SNL Monologue, Tracy Jordan's Rant, and Award Acceptance Speeches.
BEST DVD PRICE
Target
Best Buy
Fry's
$29.99
$31.99
N/A
Amazon – $32.49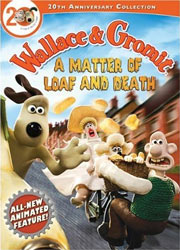 WALLACE & GROMIT: A MATTER OF LOAF AND DEATH
The characters of Wallace & Gromit will always hold a place in my heart for the profound impact they had on my childhood (I probably watched 'A Grand Day Out', 'The Wrong Trousers' and 'A Close Shave' about 30-40 times each when I was a youngin), but I had a fairly devastating realization about ten years later with the release of the feature-length Curse of the Were-Rabbit: I wasn't a kid anymore. As much as I still enjoyed that film, I no longer felt the same intense connection to its characters and their crazy adventures. This is the same problem I suffered with 'A Matter of Loaf and Death', an enjoyable enough 30-minute diversion that just didn't quite charm me the way the original shorts did. The animation is still excellent, and there are plenty of amusing movie references, but on the whole, the story felt a tad too familiar, and it lacked the same distinctive quirkiness of each of the previous efforts. As I said though, my judgment has been clouded by nostalgia, so I'll leave it to you guys to either support my assessment or question what "shit" I am currently smoking.
Blu-ray? No.Notable Extras: Audio commentary, making-of featurette, and an episode of the spin-off TV series "Shaun the Sheep".
BEST DVD PRICE
Target
Best Buy
Fry's
$11.39
$12.99
$9.99
Amazon – $9.99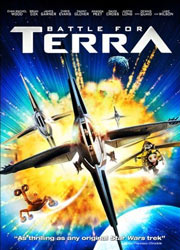 BATTLE FOR TERRA
So bad. Oh, so, so bad. Battle for Terra may have noble intentions (a thoughtful sci-fi/action animated film? Sweet!), but in execution, the film manages to fail in every conceivable way. It seems to be far more concerned with force-feeding its message down the viewer's throat than actually keeping them engaged. There is absolutely nothing compelling about it: the character design is bland, simplistic and ugly, the characters themselves are lacking any sort of depth or genuine personalities, and the story so blunt in its intentions that it's often just annoying. I appreciate that the filmmakers wanted to impart an important message about war to kiddies, but it's handled in such an unapologetically obtuse way, there's little to be gained other than "war is bad, m'kay". Considering that this message is the focal point of the entirety of the film's 85 minute runtime, with every single plot point feeling like yet another way to hammer home its themes of peace and unity, there's no excuse for the whole unpleasant ordeal to feel so damn shallow. The ending just adds insult to injury, with a resolution so abrupt and inane that it undermines everything that came before it.
Blu-ray? Yes.Notable Extras: DVD & Blu-ray – Audio commentary with director Aristomenis Tsirbas, a 'Making of Battle for Terra' featurette, Terra – The Original Short Film, deleted scenes, and original storyboards.
BEST DVD PRICE
Target
Best Buy
Fry's
$15.39
$12.99
$13.99
Amazon – $12.99
BEST BLU-RAY PRICE
Target
Best Buy
Fry's
N/A
$24.99
$19.99
Amazon – $19.99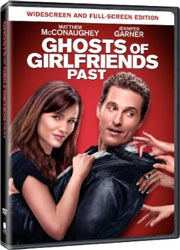 GHOSTS OF GIRLFRIENDS PAST
Matthew McConaughey. Romantic comedy. Need I say more?
Blu-ray? Yes.Notable Extras: DVD – No extras. Blu-ray – 3 featurettes ("Recreating the Past, Imagining the Future", "It's All About Connor (aka It's All About Matthew)", "The Legends, The Lessons and the Ladies"), additional scenes, and a digital copy of the film.
BEST DVD PRICE
Target
Best Buy
Fry's
$15.99
$16.99
$19.99
Amazon – $16.99
BEST BLU-RAY PRICE
Target
Best Buy
Fry's
$25.99
$25.99
$26.99
Amazon – $24.99
Other noteworthy DVD (and Blu-ray) releases this week...The Mentalist (Season 1) – Terminator: The Sarah Connor Chronicles (Season 2) [DVD / Blu-ray] – The Haunted World of El Superbeasto [DVD / Blu-ray] – Castle (Season 1) – O'Horten – Tulpan – Adam Resurrected [DVD / Blu-ray] – Clive Barker's Book of Blood [DVD / Blu-ray] – Lymelife [DVD / Blu-ray]Other noteworthy Blu-ray-specific releases this week...Shaun of the Dead – Hot Fuzz – Wallace & Gromit (The Complete Collection) – Star Trek: The Original Series (Season 2) – Star Trek: The Next Generation Motion Picture Collection

NOTE: Some deals may be in-store only.

Exclusive: Exclusive Steelbook Packaging for Terminator: The Sarah Connor Chronicles (Season 2) (DVD – $36.99, Blu-ray – $44.99).