Columbia Buys The Play E.N.R.O.N., About Rise And Fall Of Energy Giant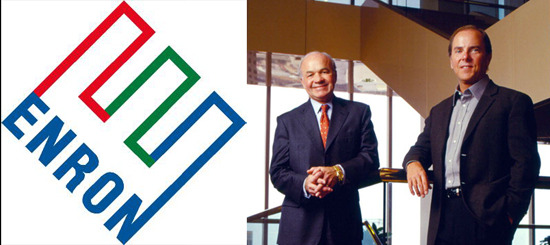 It's a good time to have a property about corporate malfeasance. There's already a perfectly good documentary about Enron, but that didn't stop Amy Pascal and Columbia for paying for Lucy Prebble's play E.N.R.O.N., which dramatizes the company's story.
Variety reports on the deal in brief. Laura Ziskin is producing from Prebble's play, which opened in London this month and may come to Broadway in April 2010. Prebble will adapt; she recently scripted the Billie Piper-starring Secret Diary of a Call Girl. THR notes that Warner Bros. has also been developing an Enron film for some time, based on the novel Conspiracy of Fools by Kurt Eichenwald, who also wrote the book that was the basis for The Informant!.
Variety says, "The play is a story of greed and fraudulent accounting practices that transformed Enron into a powerhouse that at one time employed 22,000 people and reported $111 billion in revenues." Notes on the play at the Playwrights Database read as follows:
Are you kidding me? Did we take advantage? That's what we do, that's how the world works! When you ask, 'Did you take advantage?', I hear 'Do you make a living?', 'Do you breathe in and out?', 'Are you a man?'! Yes, we took advantage! And the only difference between me and the people judging me is they weren't smart enough to do what we did." One of the most infamous scandals in financial history becomes a theatrical epic in Lucy Prebble's new play. Mixing classical tragedy with savage comedy, it follows a group of flawed men and women in a narrative of greed and loss which reviews the tumultuous 1990s and casts a new light on the financial turmoil in which the world finds itself in 2009.
The energy company Enron had roots in a Nebraska company formed in 1932, but really came into being in '79/'80 when the corporate structure was reorganized, allowing Ken Lay to become CEO. He moved the company to Houston TX and grew it into a business titan. But a great deal of that growth was based on fraud, and the company collapsed when the scandal was publicly revealed in 2001. Enron's bankruptcy, at the time the largest in history (now 2nd to the 2008 Lehman Brothers collapse) also took down the accounting firm Arthur Anderson, which was found guilty of obstruction of justice for destroying documents relating to Enron's case.
Sounds almost like a great American comedy, if the fortunes of thousands of innocent employees hadn't been wrapped up in the dissolution.