Clooney To Direct Hamdan V. Rumsfeld Film, Matt Damon To Star?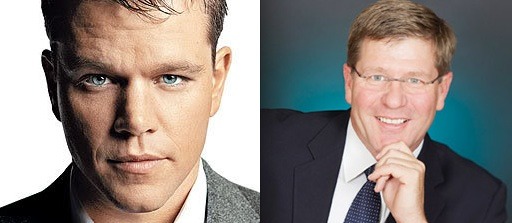 New news positions George Clooney as the director of Hamdan v Rumsfeld and Matt Damon in the starring role of  navy lawyer Charles Swift. The film will be a dramatization of the court case in which the supreme court found in favor of Swift and his client Hamdan and held that military commissions to try detainees at Guantanamo Bay lacked "the power to proceed because its structures and procedures violate both the Uniform Code of Military Justice and the four Geneva Conventions signed in 1949."
Older news told us that the film was going to be called The Challenge, that Aaron Sorkin was writing the script, Grant Heslov would be producing and Clooney would 'possibly' be taking the role of Charles Swift. I can't think of anybody I'd rather write a film that mixes courtroom drama, politics and recent history.Female First quoted Matt Damon speaking at the premiere of The Informant! on how he ended up taking the role from Clooney:
George just wasn't right for the part, thank God, so I got to play it. He gets enough good roles, he doesn't need all the good ones, he's got to leave some for the rest of us!
I left that ! in because, well, he was speaking at the premiere of The Informant!
Charles Swift is no longer with the navy, having fallen foul of their up-or-out policy that sees their members either promoted or passed over and therefore, effectively, kicked to the curb. According to many reports (example: Seattle PI) it was Swift's win in the Hamdan v Rumsfeld case that cost him his career. I think Sorkin's screenplay has a potentially dynamite conclusion there.
I suppose the big outstanding question is whether or not Asylum will rush a knock-off production Hamdi v Rumsfeld (see Wikipedia) before the cameras. Maybe they can do the Sorkin double and bash out a quick Bebo film at the same time.