Paul Giamatti Wears England's Crown In Ironclad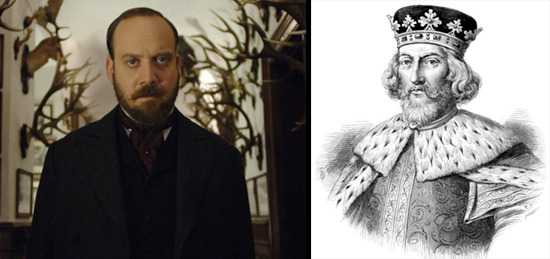 Months ago, there was word that a film called Ironclad was brewing, which would be an "ultra-violent medieval action thriller" about a Templar Knight who, with a small entourage, successfully withstood a siege by King John of England, younger brother of Richard the Lionheart. Reports had suggested that Paul Giamatti might play King John; now we know they were right, and we've got other cast details as well.
Variety reports Giamatti has signed, and that the film will shoot in Wales next month. James Purefoy, soon to be seen in Solomon Kane, will be the primary Knight Templar. In February, when Screen Daily first reported the project, there was a host of fantastic actors attached: Bob Hoskins, Robert Carlyle, Pete Postlethwaite, Richard Attenborough, William Moseley, Colm Meany and Angus McFayden. But seven months later, we don't know how many of those, if any, are still part of the film. I pray all, because that would be glorious.
Minotaur director Jonathan English is directing from a script he co-wrote with Erick Kastel. The setting is Rochester Castle, where King John attempted to put down part of a rebellious baron uprising in 1215. What prompted this? The signing of the original Magna Carta, which severely limited John's power. He signed, but after the barons who forced the signature left London John renounced the document, provoking a civil war now called the First Baron's War. The barons had already lost confidence in the King after he lost a bunch of territory in France and ceded some control over English land to the Pope.
John is also part of the Robin Hood legend — he's part of the outlaw's classic origin story, as John's inept rule while Richard Lionheart was off fighting the Third Crusade led Robin Hood to an outlaw life. That puts this story on a parallel with Ridley Scott's untitled Robin Hood film.