Is NBC's Community Worthy Of The Best Comedy Block On TV?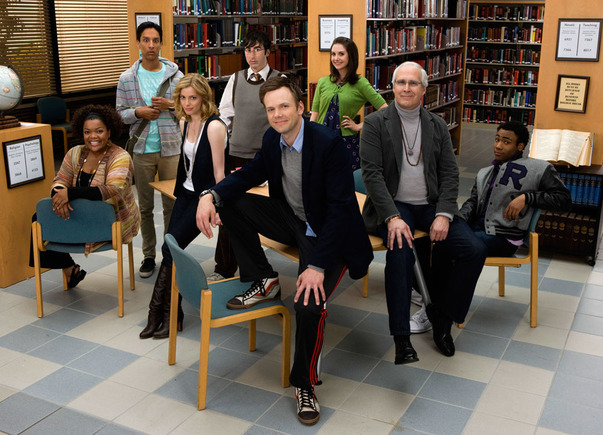 Last night saw the debut on NBC of Community, the new half-hour sitcom notable for starring The Soup quickstepper, Joel McHale, and parting the prime time waters for Chevy "Nugent, Ted Nugent" Chase. Based on the premiere, Community looks to introduce a sweet-hearted strain of politically incorrect irreverence to the Big 3 as a reaction to cable's shenanigans. This is not really a surprise since the show was created and produced by Dan Harmon, whose credits include The Sarah Silverman Show and the axed Jack Black treasure, Heat Vision and Jack. Earlier this month, the pilot was rolled out on Facebook and the PS3, and today we'd like to know what you thought. Some of my early impressions after the jump...
The early consensus is that Community shows promise, and there's no denying that Joel McHale is ready for a lead gig like this. And actually, the more I think about his character, the oddly named Jeff Winger, the more surprising it seems that this unapologetic, pathological liar is a protagonist in a mainstream comedy series. Examine the premise: Jeff lied about attending university to become a very successful attorney, is later reprimanded by the bar association for this reason, and thus attempts to cheat and wheel-and-deal (if not extort) his way towards a crap-college quickie degree. On top of his moral murkiness, add his snappy-prep attire, his press-a-button charm, and self-aware attractiveness, and Jeff's only a few DSM criterion away from a sociopath. Fun.
The episode also exhibits a reliance on pop-culture references, with Bill Murray (no Ty Webb connection, though?), Michael Douglas and Elizabeth Shue all name dropped, and often more than once. The most telling references were the ones to The Breakfast Club, which is an obvious inspiration for the show's primary characters—an emotive, diverse if older, and unlikely group of students—and the way in which they meet and develop bonds via the randomness of a study group. While the diversity-angle seems less calculated than Fox's Glee (yaaay, no aloof wheelchair kid), I'm not sold on the concept; the finite number of days Winger needs to complete his goal aside, how will the writers semi-realistically extend these relationships outside of class for weeks and possibly seasons?
Will Chevy Chase's weary and snarky jackass, Pierce Hawthorne, really end up "kicking it" with Troy, a former prom king and black high school football star (played by 30 Rock writer Donald Glover)? Sadly, not unless Hawthorne smokes weed, which on cable, would be a predictable and safe bet. Not that the show's writers are hesitant to show the characters indulging. Brit actor, John Oliver, from The Daily Show plays the show's authoritative figure at the college, Duncan, whom Joel beat a DUI case for (by connecting his drinking/chalupa love to the stress of September 11th). After falling through on a shady deal with Joel per a grade-trade, Duncan is gets pissed in his office, alone, on two bottles of wine. Oliver's character is the most unhinged so far, and his "yelling as he realizes that he's yelling" tirade and his impressionable eye for Jeff curiously remind me of a composite of Eastbound & Down's Kenny Powers and Stevie Jonowski. Of course, the character will never fall into an abyss one quarter as dark as those characters'.
As Community progresses, it will be interesting to see if the sex-and-profanity restrictions of NBC prove a detriment or make for a refreshingly classy and much-needed traditional sitcom. The combination of McHale and Chase, who share a similar elitist wit not lost on the writers, will probably make the show a hit regardless. And as an opener for Parks and Recreation (good buzz on its sophomore season), The Office (ready, set, baby) and 30 Rock (more werewolves, natch!), Community finds itself in legendary company before we even find out one way or the other. P.S. NBC, let's put a pin in The Jay Leno Show, shall we?
Note: A dedication to John Hughes appeared at the end of the episode, but many viewers have pointed out a separate reference therein to Patrick Swayze and Dirty Dancing, recorded before he passed away.
Discuss: Community: Hit or Shit?Didn't see it? HuluHunter Stephenson can be reached at h.attila/gmail and on twitter at twitter.com/hunterstep.