Clint Eastwood And Matt Damon Re-Team For Hereafter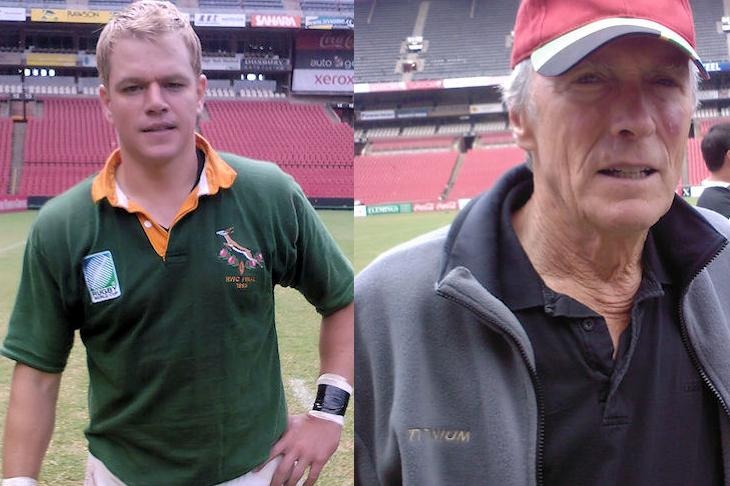 [Update: The fine folks over at Movieline claim to have read Morgan's script for Hereafter. I won't write about the details here (yet) but you can head on over there to check out some potentially minor spoilers about what this supernatural "thriller" is going to be all about.]
Earlier this year we gave you a quick look at The Human Factor (now called Invictus) a project directed by Clint Eastwood. Set in South Africa, Invictus is based on the real-life story of rugby player Francois Pienaar (Matt Damon) who, with the support of Nelson Mandela (Morgan Freeman)  helped unite his country in the wake of apartheid. Invictus will be out in theaters this December, but it looks like Damon and Eastwood have already made plans to re-team again in a movie called Hereafter, written by screenwriter Peter Morgan (Frost/Nixon). Hit the jump for what we know about the project.
According to Variety and THR, Hereafter is a project Eastwood has been interested in since late 2008. Dreamworks has since held on to the rights for the script, but Eastwood will now be taking the project over to Warner Brothers with the blessing of Steven Spielberg. Spielberg and Eastwood recently worked together on Flags of Our Fathers and Letters From Iwo Jima, which Spielberg produced. Kathleen Kennedy will produce Hereafter along with Eastwood, while Spielberg, Frank Marshall, Peter Morgan, and Tim Moore will get executive producer credits.
The plot of the film is being kept secret, but it's been described as "a thriller in the vein of The Sixth Sense." It will be interesting to see Eastwood tackle the supernatural, but the latter parts of his career have definitively demonstrated that there are few genres he can't master. In light of this news, when you look back at the thriller elements of films such as Absolute Power, True Crime, or even Gran Torino, you can't help but wonder what the man could do in this genre with the collective might of his superstar producing team and an actor like Matt Damon at his side.
Discuss: What do you think of the idea of Eastwood directing a supernatural thriller?