Toronto Buzz: Dogtooth And Get Low Earn High Spots On The To-Watch List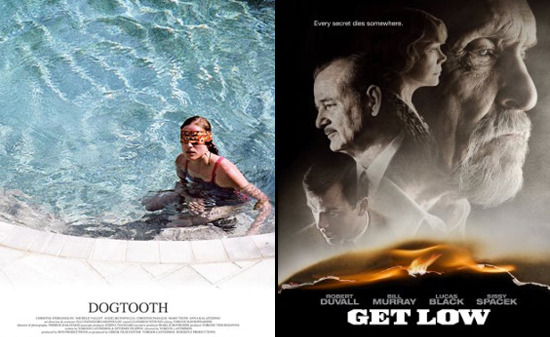 Reporting on an event like TIFF from the comfort of my own home is frustrating. There's the drive to learn as much about all the new films as possible, without learning too much and unavoidably pre-judging the films before actually seeing them. But some reviews just have to be read. I'd been curious about the Greek film Dogtooth since it debuted at Cannes, where it went on to win in the Un Certain Regard sidebar. And Get Low, which unites Robert Duvall, Bill Murray, Sissy Spacek and Lucas Black, just sounded like a great little flick.
Now both movies are earning great notes out of Toronto. Dogtooth has a distribution deal and Robert Duvall's performance in Get Low is the one everybody seems to be talking about.
Dogtooth, the second feature by Yorgos Lanthimos, got my attention in May based on a few Cannes reviews and a NSFW trailer, which is at the bottom of this post. In May, Mike D'Angelo wrote at the AV Club that it was one of two 'truly great' films at the fest, and noted that it is best to just mark it as a must-see and not read anything else. That's what I'd like to do, but if you want to know more, read on.
The story takes place in the home of a married couple and their three adult children. We learn that the kids have never been outside, and that their parents have indoctrinated them into a weird, infantile and self-contained world where all references to things outside the house are twisted and words have whatever meaning the parents want. Scott Weinberg at Cinematical notes that James Rocci said "it's unlike anything you've seen before," and goes on to echo the sentiment. Movieline calls it " a delightfully twisted little fable...with all the markings of a cult classic," and says it is elevated "far above the mere exploitative, constructing a uniquely surreal yet oddly believable alternate universe."
Kino has bought the film for distribution in the US.
Meanwhile, on the opposite side of the narrative fence is Get Low, starring Robert Duvall as Felix, a hermit who decides to stage his own funeral so that, in short, he can be around to hear what people have to say. Felix isn't the most liked guy in town, however, so it's more complicated than even the basic idea might sound. The consensus is that the film is relatively unassuming, but that Duvall's performance is a powerhouse while Murray, Spacek and in particular Lucas Black all bring their A-game to supporting roles.
(The whole thing reminds me, in some ways, of That Evening Sun starring Hal Holbrook, another recent movie focusing on a bitter old guy in Tennessee. Criminally, that one has no distribution.)
Get Low doesn't currently have distribution, but I expect that to change by the end of the fest. Meanwhile, here's the Dogtooth trailer, which I'll remind you is NSFW:
if(document.getElementById("obj1f866af11db04864bca16236377b518f")) document.getElementById("obj1f866af11db04864bca16236377b518f").setAttribute("flashvars", "file=d4173e3140f241aa801ca2c609ebfd77&permalink="+encodeURIComponent(location.href)); if(document.getElementById("emb1f866af11db04864bca16236377b518f")) document.getElementById("emb1f866af11db04864bca16236377b518f").setAttribute("flashvars", "file=d4173e3140f241aa801ca2c609ebfd77&permalink="+encodeURIComponent(location.href));
// –>