Cool Stuff: Jay Ryan's John Hughes Posters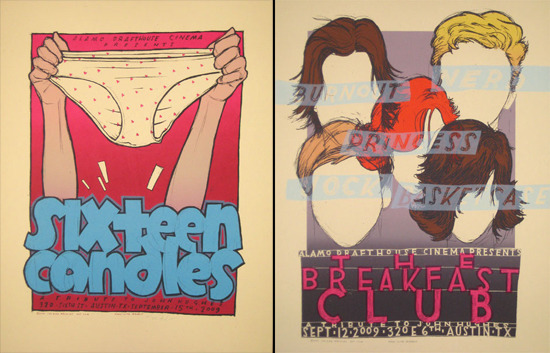 If you follow the Alamo Drafthouse's Mondo Tees shop on Twitter (@MondoNews) you might have seen a mention recently that the shop would be selling some John Hughes posters. Now they're in and on sale to internet shoppers as of now. Jay Ryan has created two images, one for The Breakfast Club and one for Sixteen Candles.
Each poster is 20" x 26, signed and numbered by Ryan for $30. The Sixteen Candles poster is in an edition of 225, the Breakfast Club image is in an edition of 230.
And if you liked the Aaron Horkey poster for Jim Jarmusch's Dead Man I posted on Monday, Mondo has a few of those, too. The edition is slightly different than the one that sold out immediately on Monday, and is slightly cheaper, too: $110 instead of $145. (Edit: that one went fast. Within two hours the Dead Man posters were gone.)
If you're interested, get to Mondo quick; the site is already showing signs of traffic strain, and these might not last long.