New Images: Where The Wild Things Are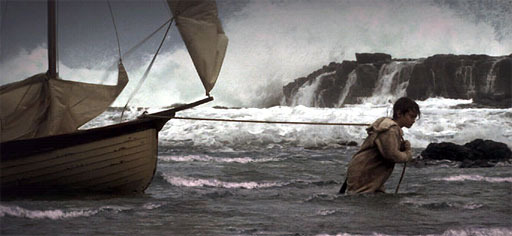 More images that bottle a sense of "child-like wonder" and "child-like terror" have washed up on the 'nets courtesy of the New York Times. They nicely compliment a post yesterday on Sonny Gerasimowicz, the unlikely art director on Where the Wild Things Are. Grab a child-like blanket and prepare to curl up in the fetal position inside your man-like cubicle after the jump...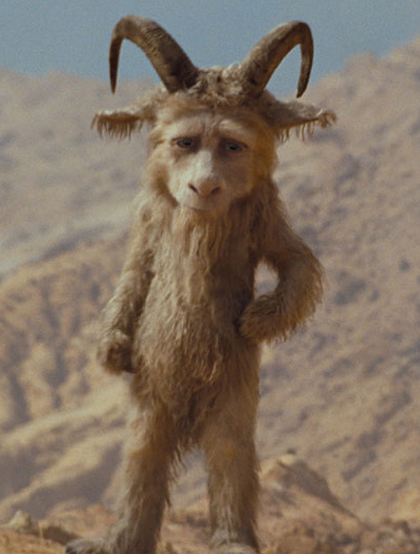 The Sabbatic-looking goat above is named Alexander and will be voiced by crazy preacher Eli Sunday actor Paul Dano. As mentioned yesterday, this is the Wild Thing that Geracimowicz apparently suited up for after an unnamed actor dropped out. Yes, my mind tells me that this actor was Gary Coleman; lil' man can't catch a break. The preceding header image shows Max Records's arrival by boat onto the violent beach of the Wild Things. Says director Spike Jonze: "This isn't a children's movie. We wanted it to be a movie about childhood." The last movie I remember being referred to like this was Radio Flyer aka the saddest movie about a flying wagon, perhaps ever.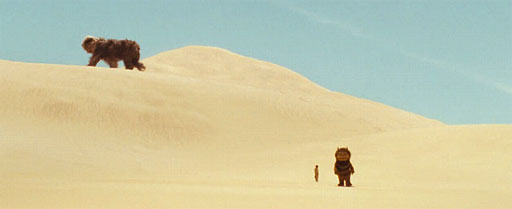 That hairy thing at the top of the hill is said to be a nine-foot dog. I smoked Salvia divinorum over the weekend and what I saw takes a silver to this image. Pretty wonderful. Reminds me a bit of The Mighty Boosh. The Wild Thing standing to the right of Max above is Carol, his main guide, as voiced by James Gandolfini. Like a true A1 sociopath, Gandolfini's Tony Soprano was extremely kind to animals and kids. He would love this flick. Also of note, the film was shot in Australia.

This is the one image that seems a little off to me, a little Neverending Story. No big deal. Jonze tells the NYT that the cloth clawfeet on Max's iconic suit were replaced with Converse to "put Max more in the real world." We all know that Converse is owned by Nike, which puts the movie farther into our cruel real world as well, I'd say.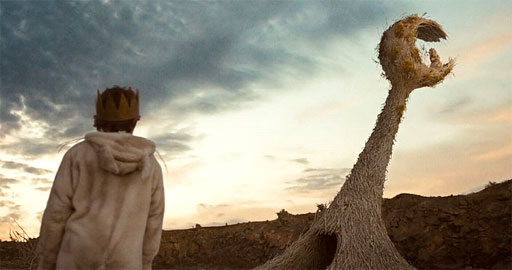 The filmmakers took some leeway with this image, envisioning a tree-home that Max instructs the Wild Things to build. Really dig this one. The tree-home was designed so that the saplings mirrored the crosshatching of creator Maurice Sendak's style of illustration. Also, you may wonder why the image seems to play eye-tricks: the top of the tree is actually extended with a matte painting. All sappiness aside, this image makes me think of Autumn air. You know what? Maybe I won't be skipping the first family film scored by Karen O of the Yeah Yeah Yeahs and directed by the guy who made "Sabotage" afterall.