Concept Art For Duncan Jones' Mute, News On The Shoot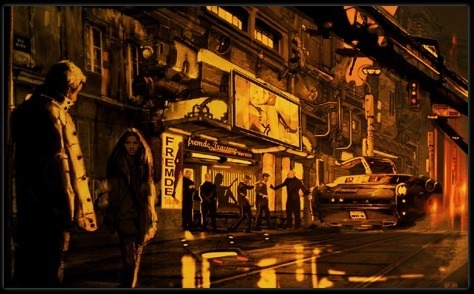 [Update: Duncan Jones has now supplied us with a hi-res version of the same image and you can see it below the break. This version reveals more of the text - the sign can now be seen to read Fremde Traume, or Foreign Dreams and it is very clearly a strip club. Take a good look at the figures in the door way too. Is that a straightjacket? Somebody is definitely gripping a hold of somebody else's neck, perhaps with a device of some kind... what's going on in this scene?]
The first piece of concept art released online for Duncan Jones' sci-fi thriller Mute has popped up and, unsurprisingly, it has something of a Blade Runner vibe. This is one part unsurprising as young Mr. Jones has made it abundantly clear how much a fan of Ridley Scott and the seminal work of future noir he is and another one part unsurprising as he's explicitly compared Mute to Blade Runner himself.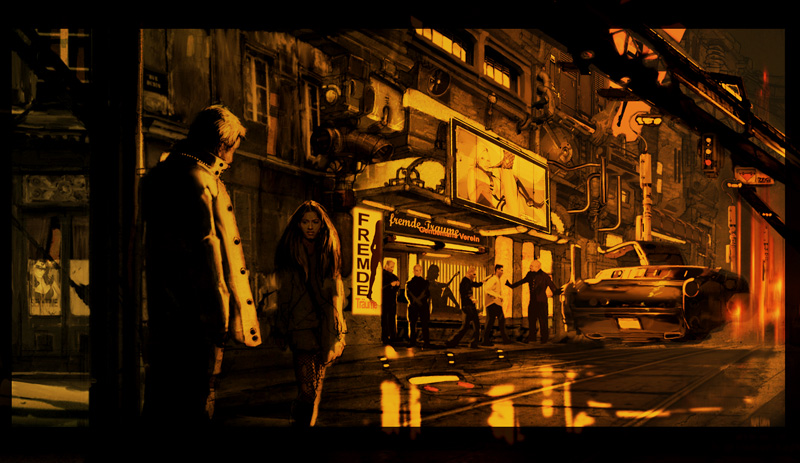 The image was released via the official site of Liberty Films, Jones' production company. Under the image was the following text:
In Development. Writers: Duncan Jones (Moon) and Mike Johnson (Sherlock Holmes). Director: Duncan Jones. Producer: Stuart Fenegan. Project currently in preproduction and set to shoot in Berlin early 2010 with Studio Babelsberg.
Okay, it originally said 'Studio Babelsburg' but I corrected it for them. The film is going to be set in Berlin as well as filmed there. Knowing, then, that it would be in German, I checked out the meaning of the word Fremde, as seen clearly in the picture. It means 'Foreign.' Is this some kind of District 9-style sign referring to aliens? Probably not. Maybe the wall has gone back up in this future Berlin? Again, probably not.
Jones has described Mike Johnson as his "regular writer", noting that his collaboration on Moon with Nathan Parker came about because Johnson was busy. I take this to mean that beyond Mute, Johnson and Jones have got a nice little pile of screenplays stacked up and ready to go. Is it possible that they've already scripted the third film in this (loose) series, the one Jones has referred to as a big action film, apparently to be set in London?
The news that the film is in preproduction is good, and the fact that they already appear to have Studio Babelsberg booked is also very encouraging. It looks like this really will be Jones' next project.
In case you don't recall, Mute is a thriller about a mute bartender looking for his abducted girlfriend in a future Berlin. The villains of the piece are, apparently, a comedy double act – creepy.
You may note that Liberty Films also have Junkyard Jim, a CG animated TV series for preschoolers on the cards. Not one half as interesting as Mute.
(Thanks to Montimer for twit-pointing me towards the concept art.)