More Toy Story 3 Details, Straight From D23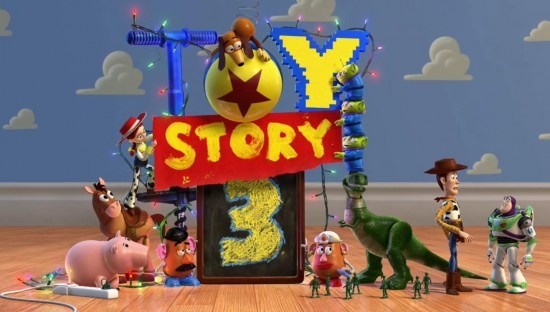 As I start this post, John Lasseter is on stage at D23, delivering a string of Toy Story 3 announcements. Thanks to the magic of Twitter, I'm able to keep tabs on the little bits and pieces from some 5,400 miles away. As I write, I'm very excited. I wonder what great news will come after the break? It depends on how far Lasseter goes in dropping news bombs. Already, though, I have some surprising casting news to report...
This was unexpected... John Lasseter has confirmed that John Morris, the voice of the young Andy in Toy Story and Toy Story 2 is back for part 3. This time round, Andy is 18 years old. John, on the other hand, is 24. I bet he's still got a Woody and Buzz at home, though. That is a sweet piece of casting. I like it. And IMDB user jmcastro is going to be over the moon. As far as I can tell, John hasn't actually done much since he last lent his voice to Andy.
More casting news breaking now. Also on the roster are Pixar vets Jeff Garlin – previously Captain B. McCrea of The Axiom in Wall-E, and Bonnie Hunt – previously Rosie in A Bug's Life, Sally in Cars and Ms. Flint in Monsters Inc – as well as Whoopi Goldberg, making her Pixar debut. Who are they playing? No idea!
Lasseter also reconfirmed the casting of Timothy Dalton as Mr. Pricklepants, but no new info appears to have surfaced on that front. Doesn't stop it being just about the most amusing thing I've heard in weeks.
The announcements have now moved on to Winnie the Pooh and Cars 2, and as far as I can tell, the info presented was just the same as we heard on Thursday. All good things will come to those who wait, I suppose.
via the Twitter accounts of Lee Unkrich and Disney Pictures.