Nicolas Winding Refn To Direct Modern Western Only God Forgives And A Gore Verbinksi Heist Film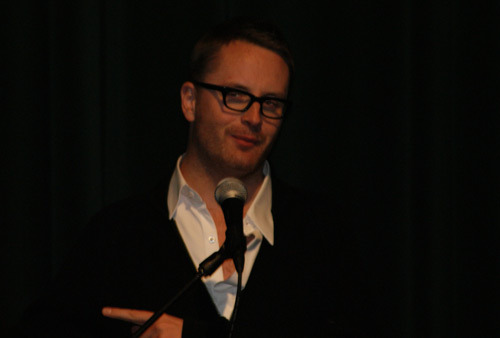 The momentum behind writer/director Nicolas Winding Refn—a talent of significant interest for many of our staff—is culminating into numerous "man's man"-sounding projects. The Dane auteur behind the Pusher Trilogy and this winter's rollicking Bronson remains attached to direct Keanu Reeves in Jeckyll, a big-budget take on Dr. Jeckyll & Mr. Hyde, that would introduce him to the domestic mainstream.
This week, reviews for Refn's violent Viking epic, Valhalla Rising, have started to pile in from the Venice Film Festival: Variety compared it to a redundant and nearly dialogue-free "grunge-and-gore" flick in the John Milius mold. On a bad day with a skull chalice, might that be welcome? Add to this two new projects: a "modern Western" with the foreboding title Only God Forgives and an untitled heist film for producer Gore Verbinski (PoTC trilogy). The order of production is presently unknown. More info follows...
The logline for Only God Forgives: "A Bangkok-set modern Western (East meets West) that sees a Thai police lieutenant and a gangster settling their differences in a Thai-boxing match." The first thing I thought upon reading this premise was that it sounded like a Nic Cage-excuse-for-a-vacation flick. Having seen Bronson twice, and while I did enjoy it and believe it's skies above most offerings, I found Refn's borderline sensational, style-titillated depiction of incarceration and casual violence to be a wary detour from the way he handled related themes in the Pusher films. (I consider Pusher 3 to be his best and most mature effort thus far.) Moreover, I can't deny that Bronson and many of his newly announced projects seem overly defined by the "badass niche"; whereas the Pusher films definitely warrant membership, they remain very difficult to describe (and sell, natch) in a sentence.
Moving on: They're said to only be in early talks, so there is very little info on the aforementioned heist picture with Verbinski. In my eyes, the affiliation alone solidifies that Refn is on a productive tear up the Hollywood A-list. The Refn project I'm most anticipating is none of the above, but one entitled The Dying of the Light based on a script by the legendary Paul Schrader (Taxi Driver, Hardcore, Rolling Thunder). As reported by /Film's Russ Fischer, Robert De Niro is in quiet talks to star as "a CIA agent about to retire due to Alzheimer's races the clock on a final mission." For the sake of the jinx, I won't say that De Niro probably underestimates what Refn could do for him these days on a creative level.
Bronson opens in October from Magnet. A large number of Statesiders have already illegally downloaded it, but I'm curious to see if the expected positive reception and buzz (especially amongst 20something males) garners a wider release.Event Note: If you're in Los Angeles, we recommend you do not miss this. Nicolas Winding Refn will be on hand at The Silent Movie Theatre in L.A. on September 19th at 6 p.m. PT to present Gambler, a doc about his storied trials in the Danish film industry, and Bleeder, another of his efforts about deadend life in Copenhagen. More details.