Movie Review: Jason Reitman's Up In The Air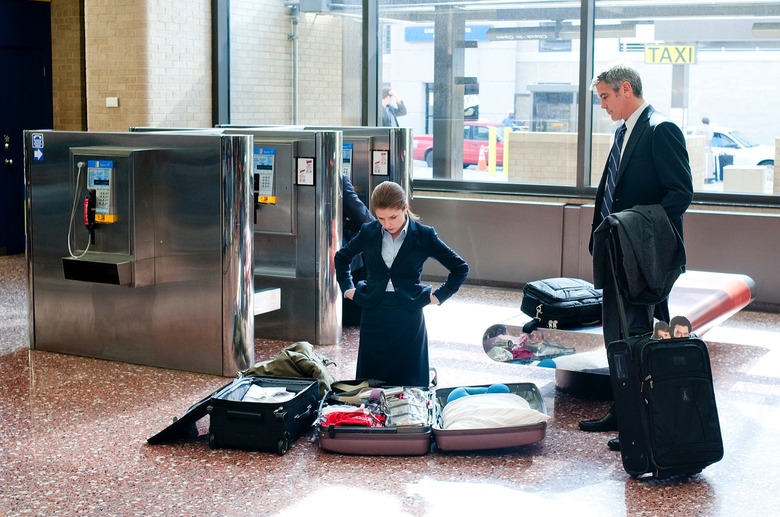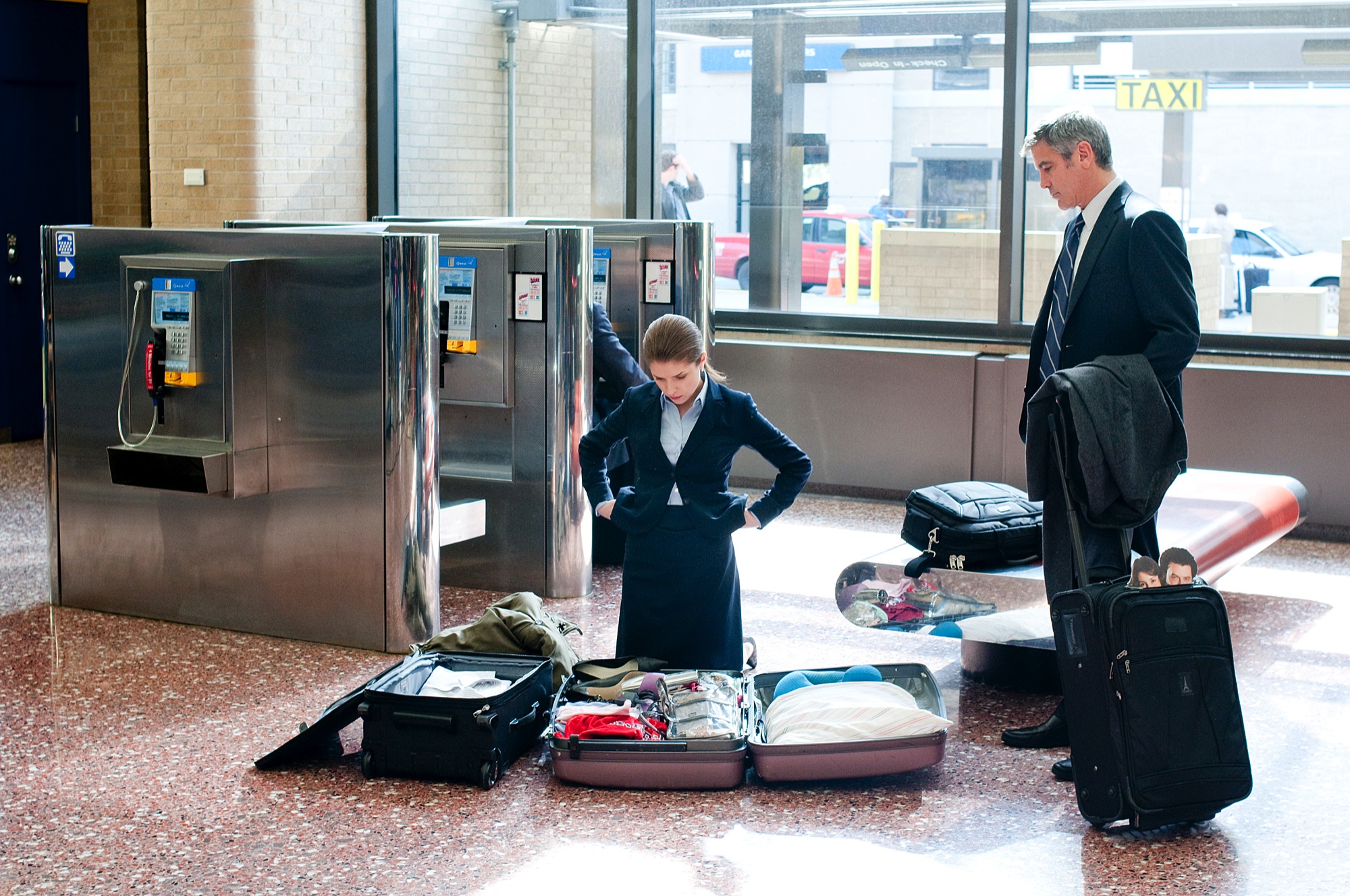 Jason Reitman's Up in the Air was one of the sneak preview premieres at this year's Telluride Film Festival. You might recall that Reitman's last film Juno also surprised at Telluride, and Reitman was again hoping to start the buzz in this small mountain town. So did he? My thoughts after the jump.
First of all, let me say that while I have titled this a "movie review", this is more of a reaction piece. I plan to see this film again in Toronto.
George Clooney stars as Ryan Bingham, a corporate downsizing expert whose life goal is to rack up ten million frequent fly miles to earn him lifetime platinum member status. But Ryan's single serving on the road lifestyle is threatened when a recent college graduate named Natalie Keener (Anna Kendrick) devises a system to fire people through internet teleconferencing, rendering his travels as an unneeded expense. Bingham is assigned to take Natalie on the road to introduce her to the real-life conditions of the job, which Bingham argues would be lost in the cost-cutting transition.
The subplot of the film follows Bingham's casual sexual relationship with another business traveler he met on the road, a woman named Alex (Vera Farmiga). I'm sure Paramount will try to market this film as a romantic comedy based on this storyline, but the film is much much deeper and stronger story than that. It's about a middle aged man who thinks he has everything figured out, and is forced to reevaluate the meaning of life as he knows it.
Up in the Air is loosely adapted from Walter Kim's novel, which I've learned is very different than Reitman's adaptation. Neither woman characters, nor the inciting incident of internet video conferencing are featured in the book. Actually, from what I can gather, the book version of Bingham pops pills, spends lots of time with women in Las Vegas, and is divorced.
I'm a frequent traveler/flier who spends over 90 days a year away from my apartment on trips, mostly business related. Heck, I'm currently 3 days into a 28 day three film festival adventure, in which I'll fly on eight different planes, and make three different cities in two countries my temporary home. I can certainly relate to the main character of Ryan Bingham, who has turned traveling into a science. Why buy anything if it won't result in more frequent flier miles? Okay, I'm not nearly as nuts as Bingham, especially when it comes to premium travel benefits. There is an awesome scene which rivals the infamous business card meeting in American Psycho. I certainly see the appeal of the life of a traveler, and the mindset that can bring. The details in the airport and hotel sequences are so perfect, but I'm not sure to credit the production designer or Reitman, who admits to personally racking up 100,000 flier miles a year himself.
The dialogue is incredibly witty, but not over-the-top stylistically, ala Diablo Cody. Up in the Air is more Thank You For Smoking than it is Juno in almost every way. The comedy is dark and sometimes blunt, and the characters are more realistic/authentic than quirky. Clooney's performance is subtle, yet layered. If the character feels perfectly suited for Clooney, it might be because Reitman wrote the part for him (even though he didn't believe Clooney would be interested).
The true gem of this film is Anna Kendrick, a young actress I've been following since seeing her in the 2007 Sundance indie Rocket Science (If you haven't seen it yet, you need to add the film to your rental queue). At the time I said she delivered a "career-making performance". While most people probably haven't heard of the film, nevermind seen it, Kendrick's performance catapulted her into a regular spot in the Twilight series, and a role in Edgar Wright's Scott Pilgrim vs. The World. Kendrick again plays a calculating fast-talker with spunk, a character that she could easily become typecast into repeating for years to come.
I was rewatching Thank You For Smoking while on a plane to Colorado, and one of the things that shocked me (as I havent seen it in a couple years) is just how many great actors and actresses Reitman was able to fit into one movie, sometimes occupying the smallest of roles. Up in the Air is no different. Juno stars Jason Bateman and JK Simmons return, Danny McBride gives his least comedic performance to date, and Thank You For Smoking star Sam Elliott also returns. Simmons and Zach Galifianakis appear only shortly, mixed within footage of real people who have recently lost their job.
The cut that was screened at Telluride was finished only two days prior, and Reitman has admitted that he rushed to complete post production three months ahead of schedule to make the Toronto International Film Festival premiere. That said, the film doesn't feel rushed or unfinished at all. Actually, it feels like Reitman's slickest film to date.
The opening credit sequence by Shadowplay Studios (who has done work on Reitman's previous films) features some of the most incredible aerial photography I've seen on the big screen (I actually thought they might have created some of the imagery in a computer, but not so). Reitman continues to evolve his visual style, creating neat, organized visually balanced cinematography that compliment's Clooney's Airworld. Another example would be a great hip-hop montage sequence showing Clooney passing through airport security, which utilizes sound effects as a Stomp-like percussion score.
While watching the film, it was hard for me not to compare the movie to Reitman's two previous feature film efforts: Thank You For Smoking and Juno. And yes, Up in the Air might be his best film yet. For me, the film is a third part of a thematic trilogy. All three of Jason's features follow characters who have trouble dealing with the responsibilities created with the family dynamic. In Thank You For Smoking, Aaron Eckhart plays Nick Naylor, a tobacco spokesman who much like Bingham, has the gift of spin, knows how to say all the right things, and can turn the worst possible situation into an opportunity. Naylor, a divorced father, tries to balance his career while trying to remain a role model for his uninterested and embarrassed 12-year-old son. In Juno, Ellen Page plays a teenager who isn't ready for the responsibilities of motherhood. When faced with an unplanned pregnancy, Juno decides to give the baby away to a young couple (one member of whom isn't sure he's ready/old enough to start a family himself). Juno also must come to terms with her unwanted step mother. In Up in the Air, Bingham is a man who wants no ties, connections or responsibilities outside of his job. He wants no girlfriend, wife, kids or family.
Reitman said after the screening that this film is his most personal film to date, and possibly the most personal film he will ever make. He's been working on the script for six years, and premiered the film on the fifth anniversary of his marriage (his wife was in attendance). And when a 12-year-old girl in the audience asked Reitman, during the Question and answer session, about his philosophies on life, one of his responses involved how much having kids has enriched his life.
In a recent USA Today interview, Reitman admitted that "Movies are kind of my way of dealing with my inner questions," and that Kirn's book affected him because of the self-imposed isolation of the main character. "Are we an island or not? That's the simple, classic version of it. More than the value of being connected to the world, what is your responsibility to be connected to the rest of the world?"
The film isn't flawless: the transition into the third act is likely to get the most abuse. The laughs slow down, new characters who were only previously hinted at, get introduced, and the story takes a bit of curve.
Up in the Air is charming, funny, moving, and timely. It makes you ask questions of yourself. Is your backpack too heavy? Is that a bad or good thing? All of the characters in the film represent a different philosophy on relationships, each one easily relatable in their own way. And while all of the characters come to their own conclusions, Reitman doesnt force feed you a message (although he does provide a couple) or provide judgements on these characters, and his film doesn't end tied with a shinny red ribbon.
/Film Rating: 9 out of 10